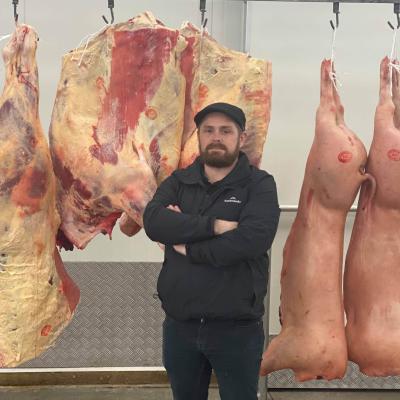 A new face is set to change things up at The Butcher Club in Belmont, as the team welcomes new co-owner and manager Matt Shelley.
Matt brings with him a wealth of experience and industry knowledge, a great fit with The Butcher Club store owners Peter Robinson and Andre Van der Linden, who also have a long history in the industry.
A Geelong local, Matt has successfully managed larger retail butcher stores across Geelong and Melbourne over the past few years, so you may recognise his friendly face when he greets you in store at The Butcher Club.
"We are excited to welcome Matt to the team and look forward to bringing some great new ideas to life," Peter says.
"We will offer our customers the best produce, specials and service and we'll be expanding our range.
"We will also be stocking up our grocery lines and freezer lines and will be offering lots more value-add products and specials.
"Our customers deserve great value, week in, week out."
Since opening its doors in 2014, The Butcher Club has become a standard supermarket stop-off for people seeking old-fashioned service, delicious meats and pre-prepared dishes.
Today, The Butcher Club has 22 convenient locations in shopping centres across Victoria.
The Belmont store is now offering a home delivery service to make it easy for customers to still get their favourite cuts during COVID-19 restrictions.
Andre says it's not just produce that customers will love at The Butcher Club, it's the knowledge, experience and great advice that comes with it.
"If you have a question about how long to bake a roast or cook a thick steak on the barbecue – just ask," he says.
"It's all part of The Butcher Club's customer service commitment.
"The team's love of high-quality meats extends beyond the storefront and all the way to our suppliers."
The Butcher Club's meats are sourced from only the highest-rated markets, fishermen's co-operatives, farmers and producers across Victoria, many of which are hand-picked by the owners.
The team also loves a bit of theatre and the old-style-market feel, with storefronts replete with spruikers and cooking demonstrations at each supermarket location.
All stores across Melbourne and Geelong are offering a 10 per cent discount to holders of seniors, pension and health care cards.
The Butcher Club, 107-113 High Street, Belmont. Open 8am-6pm Monday-Friday 
and 8am-5pm weekends.
 Inquiries: 5245 8216 or 
visit www.thebutcherclub.com.au