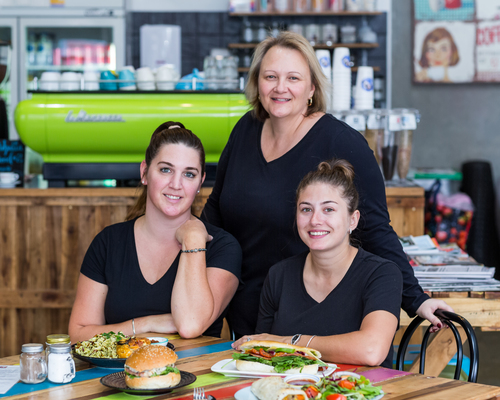 Jo Rabbas can find delicious tastes for foodies with almost any dietary needs in her open kitchen at Breakwater's Café PALAT.
"Immerse yourself in rich aromas and fulsome flavors as we tempt your taste buds with our delicious fresh menu," she says.
The friendly and relaxed community cafe has great service, healthy food, recycled earthy textures and great music, with a splash of colour.
Whether customers are gluten-free, vegan, dairy intolerant, allergic to certain foods or have other requirements, Jo works her culinary magic to suit their needs.
"Customers can come up and talk to me as a chef about their requirements," she says.
"That's very rare in our region."
Jo loves the challenge of working with each customer.
"I put fresh produce in a pan and cook for them knowing it's safe," she says.
She and husband Damian co-founded the destination café three years ago, after running home-style Café Lorae in central Geelong since 2013.
"We wanted to establish a business from the ground up but we wanted to do it differently," she says.
She serves all-day breakfast and lunch, including meals low in FODMAP carbohydrates, to families, car clubs, bike groups and more.
"I like to know that they feel very welcome coming into their space here – I'm here to serve them," she says.
Café PALAT is open Tuesday to Friday from 7am to 3.30pm and 8.30am to 2pm weekends.