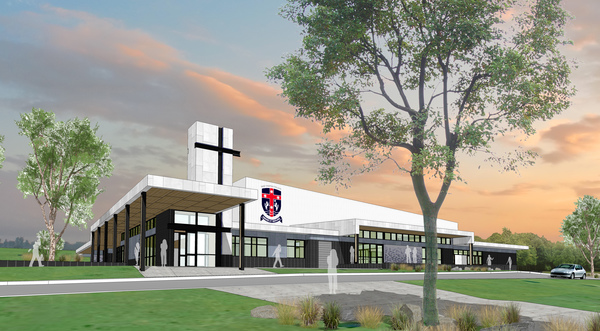 The latest Saint Ignatius College building project is well advanced with current construction on the south-east corner of the college's property underway.
The school community is looking forward to accessing the completed Year 9 and multi-purpose centres mid-year.
College Principal Mr Michael Exton said that the extensive building project will provide students with quality facilities that will enhance their learning environment and represent a strong visual statement about the college's presence as a faith and academic community.
"These new facilities mark an important step in the continuing development of our college," Mr Exton said.
"The new multi-purpose centre will enable students and staff to meet together again as a community under the one roof. After many years of classes in relocatable rooms, future Year 9 students can look forward to learning in state-of-the-art, purpose-designed learning spaces comparable to all other student centres of the college."
The Victorian State Government has generously provided $2M for the multi-purpose centre while the Commonwealth Government has provided an equally generous $2.1M for the Year 9 Centre.
The new centres will comprise a Year 9 centre with ten classrooms, break-out spaces, teacher offices and toilets, a multi-purpose centre with two indoor basketball courts, seating (for up to 1500), fitness room, PE lab, foyer, offices, toilets/showers, storage, games courts including two outdoor flexi-pave basketball courts as well as roads and footpaths.
Saint Ignatius College Open Day will be held on Sunday 24 March between 11am and 2pm. At this time, staff and students will proudly showcase the opportunities provided by their college.
For more information, phone 5251 1136 or visit ignatius.vic.edu.au.