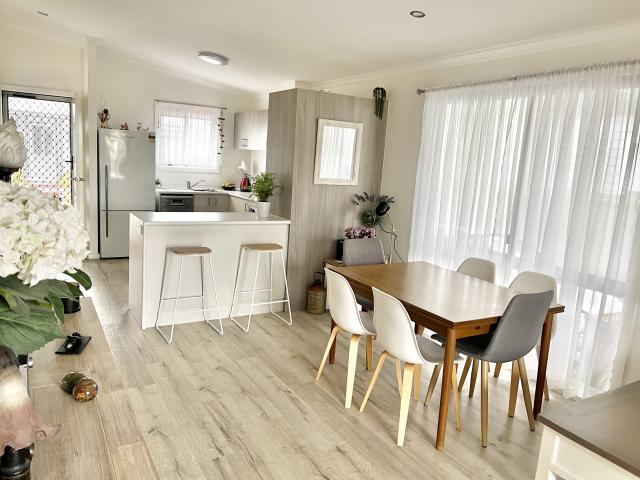 Are you ready to embark on a new adventure, embracing the joys of downsizing without compromising on style and comfort? Look no further.
SITE 134
A brand-new, modern home, that is designed to be the envy of your family and friends, offering a perfect blend of convenience, functionality, and elegance.
Nestled within the picturesque Pelican Shores Estate, Site 134 offers a tranquil retreat from the hustle and bustle of everyday life.
Step inside this remarkable home and be captivated by its modern design and spacious layout.
Boasting two bedrooms, the main bedroom features a walk-in robe, ensuring ample storage space for your wardrobe essentials. The second bedroom comes equipped with a built-in robe.
Open plan living and a fantastic kitchen
The heart of this home lies in its open plan living area, where natural light floods in, creating a warm and inviting ambiance. The kitchen is a chef's dream, complete with a dishwasher, pantry, and plenty of cupboard space.
Additional features for your comfort
Site 134 goes above and beyond to cater to your every need. A generous-sized laundry area ensures that household chores are a breeze, a split system for your comfort, and a separate second toilet adds an extra layer of convenience. Every aspect of this home has been carefully designed to enhance your daily living experience.
SITE 110
Love the idea of views overlooking the bay?
Site 110 offers a truly breathtaking experience. Imagine waking up every morning to panoramic views of the bay and the surrounding farmland. This is a home that invites you to unwind and soak in the beauty of your surroundings.
Captivating interior features
Enter this beautifully presented two-bedroom home and feel its warmth envelop you. The well-designed kitchen, a spacious pantry, and modern appliances, including a dishwasher, gas cooktop, and electric under-bench oven, will make cooking a delight while you relish the breathtaking views outside.
Convenient and stylish amenities
The generously proportioned bathroom with dual access is both practical and stylish. To ensure your comfort throughout the year, this home is equipped with a split-system heating and cooling system, allowing you to create the perfect climate, no matter the season.
Inviting outdoor entertaining
The open-plan living area is a true highlight, with its mesmerising bay views. Step through the sliding door onto the lovely outdoor deck, where you can bask in the sunshine, entertain guests, or simply enjoy a tranquil breakfast surrounded by nature. The deck is thoughtfully equipped with blinds, enabling you to relish the space year-round, regardless of the weather.
Private master retreat
The master bedroom offers a private retreat, with its own access to the deck. Imagine waking up to the gentle sound of birdsong and stepping outside to greet the day. This is a home that seamlessly blends indoor and outdoor living, creating a harmonious sanctuary for its residents. Whether you seek a peaceful retreat or a place to entertain and forge lasting memories, this home offers it all.
Pelican Shores Estate is more than just a place to call home; it is a vibrant community that fosters a sense of belonging and togetherness. Engage in social activities, make new friends, and create lasting memories with like-minded individuals who share your zest for life. Embrace a lifestyle that offers both privacy, security, and a strong sense of community. Take the leap and embrace a new chapter in style at Pelican Shores Estate. Your dream home awaits.
Call today to book a tour on 03 5250 1382 or email sales@pelicanshores.com.au