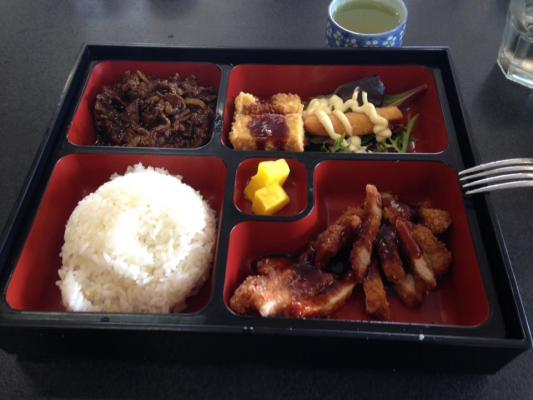 Anyone familiar with Japanese cuisine will appreciate the skill and artistry involved, the dedication to simplicity, the adherence to long-held traditions, and plating that first "feeds the eyes".
It's these elements that have made Sakuratei Japanese Cuisine a dine-in – but especially a takeaway – destination for the past nine years.
Owned by Flora Lam, Sakuratei has evolved over the years. It's recently been given a décor makeover to refine the dine-in experience, but still with clever chefs who've created a wide-ranging menu covering all the favourites, with a few more exotic dishes to sample.
Flora says they cater mainly to the takeaway crowd, who can choose from bento boxes, hotpot, rice and noodle dishes, tempura and soups – and, of course, sashimi and sushi.
Chef has recently introduced sticky rice hand rolls, with a unique natural violet colour – and, for the health-conscious, a great source of protein, iron and fibre. Flora recommends giving these a go.
Vegos and piscatorians are spoilt for choice at Sakuratei, with a wealth of bean curd and fish-focused treats – always Japanese cuisine influences. But meat-lovers definitely don't miss out, with many of the hotpots, bento choices, and noodle dishes replete with beef, chicken or pork.
The friendly restaurant is terrific for grabbing a delicious healthy lunch, and there are so many choices to take home for dinner – or dine in and graze away.
And the holiday season is the perfect time to get a made-to-order sushi platter, great for end-of-year office parties or any other small event throughout the year.
Menu sneak peek
Salmon nigiri sushi and small salmon seaweed rolls make great starters, while the grilled eel atop vinegared rice is a little more exotic.
The deeply comforting sukiyaki and yosenabe hot pots come with three choices of protein with vegie accompaniments – each with that distinctive "cleanness" for which the cuisine is famous.
Yakisoba will satisfy the hankering for a fried noodle dish, while the tempura bento box with chicken karaage (deep fried), tofu and harumaki gets a big tick. And pan-fried dumplings are always tasty morsels.
Desserts? Yes. The offerings at Sakuratei run from the familiar banana tempura through to dorayaki – red bean pancake with ice cream, the latter also in the form of macha green tea.
Worth noting: Menulog delivers for the restaurant so you'll be able to track your courier on a map.
Sakuratei Japanese Cuisine,
161 Shannon Avenue, Manifold Heights. Opens 10am-9pm Monday-Saturday. Inquiries: 5222 6668.