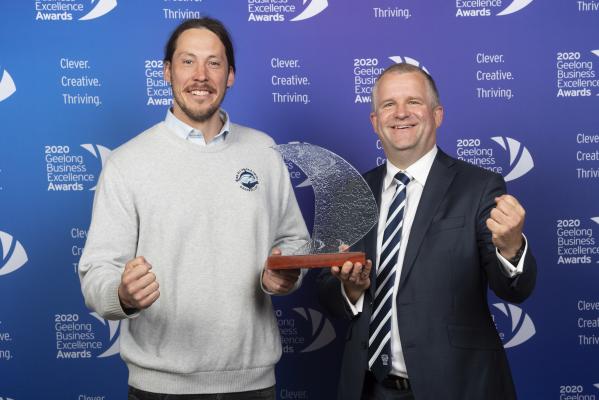 The Geelong Chamber of Commerce calls on all businesses, business leaders and young entrepreneurs to enter the Geelong Business Excellence Awards.
The Geelong Business Excellence Awards in 2021 are all about recognising and celebrating our clever, creative and resilient business community. It's important to celebrate those businesses who have pivoted during extraordinary circumstances and now move forward with confidence.
Ben Flynn, Chief Executive Officer, Geelong Chamber of Commerce, said: "Geelong businesses are agile and we can't wait to celebrate their achievements of adapting, surviving or thriving in one of the most challenging business and economic environments in history."
Proudly supported by major sponsors, LBW Business + Wealth Advisors and Deakin University and managed by the Geelong Chamber of Commerce, the awards celebrate business excellence across 20 categories targeting small, medium and large businesses from all industries including the manufacturing, hospitality, tourism, not for profit, health, financial services
and more.
The awards offer entrants, finalists and winners a range of opportunities and experiences far beyond simply 'winning'.
Tennille McInnes, Business Awards Manager said: ''The entry process helps you articulate what your business does, how you do it and why you are unique. Here is a great opportunity to celebrate everything your team has contributed over the last year."
Information Sessions will be conducted online from May 11 where you learn more about entering and how to write a successful submission. Past winners and judges will be available to give you advice and answer any burning questions.
Entries are open through the Geelong Business Excellence Awards website and can be submitted up until July 16, 2021. Businesses, Business Leaders and Young Entrepreneurs do not need to be nominated to enter the program.
To learn more and register for an online information session visit www.gbea.com.au.
GBEA Information Sessions
Session 1: Tuesday, May 11, 12pm-1.30pm
Session 2: Friday, May 14, 12pm-1.30pm
Session 3: Tuesday, May 18, 5pm-6.30pm
Session 4: Wednesday, May 26, 5pm-6.30pm
To register your attendance, visit www.gbea.com.au/news