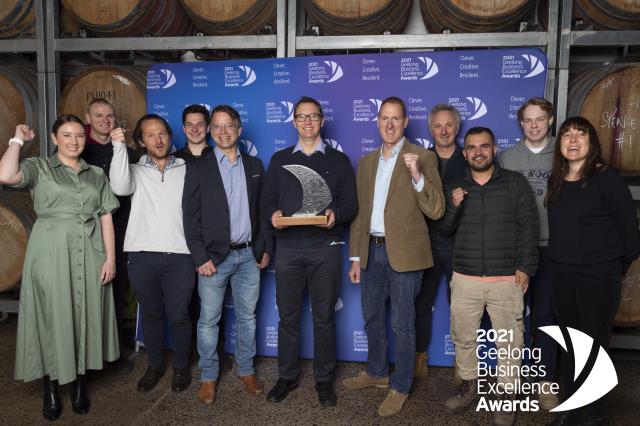 Elle Cecil
Founded in September 2016 by two manufacturing experts from Geelong, FormFlow has rapidly risen to the top of the innovation industry pack and has been rewarded accordingly with the Geelong Chamber of Commerce's Innovation, Research and Development Award, sponsored by Viva Energy Australia, at the 2021 Business Excellence Awards.
Co-founders Dr Matt Dingle and Associate Professor Matthias Weiss implemented world-first technology to create sharp bends in corrugated metal sheets, enhancing bushfire resistance and the energy efficiency of buildings.
Admired by the award judging panel for their production and availability of "beautiful, functional and sustainable housing," FormFlow was nominated for the award by the Geelong Manufacturing Council.
"Obviously we were chuffed when we found out we were nominated," Dr Dingle said.
"As a fairly new business, it's really nice when an industry body and people that you work with put you forward for an award like that."
Dr Dingle previously worked as lead engineer at Ford's Product Development Facility in Geelong, co-founded several other businesses and lectured at Deakin University. He is now working full time as FormFlow's managing director, alongside Associate Professor Weiss, who is currently FormFlow's research and development director.
Associate Professor Weiss is internationally renowned for his work in the roll forming industry, has been part of five successful nationally competitive large research grants and has published more than 80 refereed articles.
FormFlow staff watched the awards as a team in a COVID-safe environment with a big screen, takeaway and a few drinks.
"It was almost like a real celebration," Dr Dingle laughs.
Despite some hiccups in the last few months with lockdowns, construction industry closures and material cost increases, FormFlow has an abundance of work awaiting it, including contracts booked until July and a variety of interstate projects.
"We work very closely with our collaborators – it's a key part of our success and we could like to acknowledge the role that Deakin University and BlueScope Steel have played in our achievements so far," Dr Dingle said.
The 2021 Geelong Business Excellence Awards were held as a virtual awards night on Tuesday, October 19and celebrated the region's clever, creative and resilient businesses and business leaders.