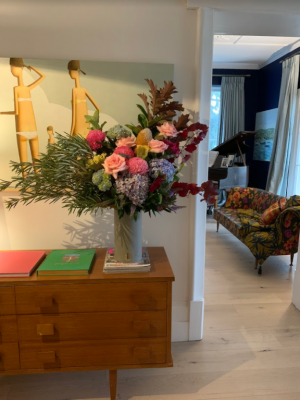 Although it felt like spring may never arrive this year, it's officially here.
There's nothing like seeing blossom in bloom and colour and birdlife return to the garden to uplift, energise and motivate us.
Harness the natural energy that spring brings, take stock and get busy organising and refreshing your home in preparation for the sunny skies and warmer months ahead.
Here are some ideas from Central Geelong Marketing to get you started …
Organise your wardrobe
Spring is the perfect time to have a closet clean out. Storing away those chunky knits and bulky winter woollies is good for the soul and will help you organise your wardrobe.
Target and Big W offer some great storage products to set up and maintain a super organised space. From furniture, plastic storage solutions, bags, baskets and hangers to shoe storage and vacuum seal bags, there's no excuse to not get your wardrobe in shape.
Visit www.target.com.au and www.bigw.com.au for current trading hours or to view and shop products online.
For those items you've decided to part with once and for all, the Salvation Army Family Store in Malop Street is open and able to accept some donations under COVID-19 restrictions. Contact them on 5221 5828 before dropping off your quality, used clothing.
While you're there, you might find yourself a new spring wardrobe bargain.
With National Op Shop Week just around the corner (September 28 to October 4), now is a great time to support your local Salvo's. Visit www.mysalvos.org.au for more information.
Refresh your living room
Once you've successfully organised your wardrobe, it's time to pay your living room some attention.
Spring is inspiring and encourages us to add seasonal colour and vibrancy to our spaces. You can revamp your colour scheme with subtle, simple changes such as replacing your couch cushions or adding some new art to your wall.
Adairs in Market Square has a beautiful range of statement and comfort cushions in store featuring spring-inspired florals and textured finishes such as velvet and linen. It also stocks a range of ready-to-hang artwork including framed or canvas prints, decorative mirrors and wall hangings.
For artwork with a local connection, check out the Geelong Creative Collective which showcases a range of fabulous wall art and prints from several Geelong regional artists. View featured works at www.thegccollective.com.au
Perhaps the season has got you feeling a little adventurous and you're considering introducing some fresh, more permanent colours into your home?
Be sure to visit Geelong Colourworld in Malop Street to help bring your grand plan together. Geelong Colourworld also stocks a huge range of statement and sophisticated wallpapers and accessories. Visit www.colourworld.com.au for painting tips and hints and paint colour selection tool.
For a complete spring-inspired overhaul, Lane Kelly in Yarra Street can provide you with a one stop shop styling service enabling you to achieve your personal style with help from an expert. From cushions, to furniture selection, lampshades and home accessories, Lane Kelly has extensive knowledge of concept, colour and design. Visit www.lanekellys.com.au to book your consultation.
Cheers to alfresco dining!
As the weather warms up, there are so many more opportunities to eat and drink outdoors! Dust off your alfresco dining and outdoor furniture and create a gorgeous sanctuary to enjoy with your family on those delightful spring days.
Bed Bath and Table, Myer and Harris Scarfe all stock a stylish range of outdoor de´cor including drink ware, food covers, napery, outdoor chair pads and cushions to complete your outdoor space.
Central Geelong booksellers Dymocks and QBD have numerous new releases this spring to help you plan your springtime alfresco dining and brush up on your barbecuing and preserving skills. Visit them online to browse their selections.
Once you're feeling inspired, visit locally owned and operated Chef's Essentials in Ryrie Street to ensure you have what you need. The huge range of kitchenware, cookware, bakeware, utensils and accessories will help you perfect your next kitchen creation. Check them out at www.chefsessentials.com.au
Get busy growing!
And of course, spring is a wonderful time to head back outdoors and get your garden into shape. It's also the right time to plant many of your favourite fruits, herbs, vegetables and flowers.
Kaisercraft's range of fun designer garden tools and accessories will keep you feeling glam, even when up to your elbows in soil. A three-piece mini shovel, fork and gloves set is a gorgeous spring treat for yourself, or as a gift, and perfectly complements Kaisercraft's garden apron. View the range at www.kaisercraft.com.au
You can also create a glorious indoor or patio garden to brighten your space and get your green thumb on.
Flower Bowl, Lustre Blooms, Smellies and A Natural Bunch are all located in Central Geelong and can set you up with a huge variety of potted plants, funky pots, terrariums and a selection of texts to educate and inspire.
Visit www.centralgeelong.com.au or download the Love Central Geelong App to learn more about creating a glorious indoor garden and how you can continue supporting local businesses.