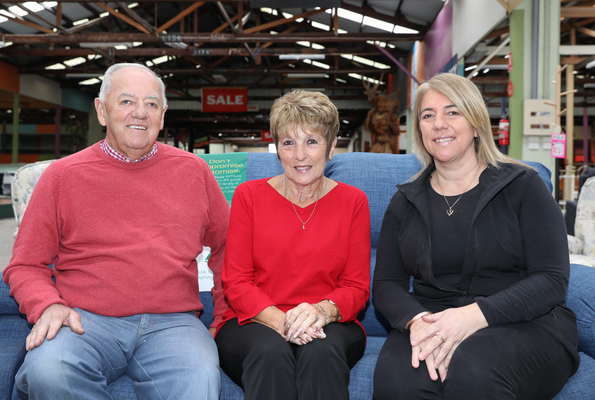 After 34 years The Big Shed is closing down and its owners, the Dillon family, are holding a massive sale to celebrate decades in the furniture industry.
Everyone knows The Big Shed but customers still do a double take when they enter and see two acres of undercover furniture and gifts for the first time.
Located in South Geelong, the imposing heritage shed was built about a century ago.
It was originally the home of Geelong Bottle Company before a major wool firm took it over.
American soldiers based at Queenscliff Fort used the shed as emergency housing during World War II, and it had many other uses throughout the decades.
In the early '80s Geelong businessman John Dillon bought it and launched The Big Shed with wife Lucie.
They have met thousands of local customers over the 34 years and want to thank them for their support.
"I'm grateful to have had the opportunity to encounter a vast number of Geelong residents," John says.
"It's been a wonderful experience and I have made many friends along the way."
Their daughter Shelley took over the business in 2006 after John and Lucie retired.
She urges Geelong locals to have a look at the store's massive range one last time, and pick up an amazing bargain too.
"We love it when customers take their time to wander around the various sections of the store and explore," Shelley says.
"There's always a spot people want to decorate with just the right piece and there's every chance they'll find it here."
The Big Shed is offering massive discounts on its already competitive prices, with a delivery service also available.
"Many of our customers just pop in to see what's new or browse with no intention to buy, but end up making a purchase because they found something they could not leave without."
The Big Shed may be closing down in two weeks but its staff are still dedicated to the same great customer service.
"We aim to be as helpful as possible without making the customer feel pressured, so it's a more relaxed shopping experience," Shelley says.
The Big Shed is also a store within a store, with an expanded range of giftware including lamps, model cars, bar needs, plaques and signs, fire screens, towel rails, mirrors and prints.