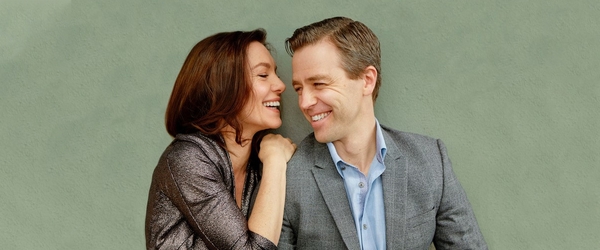 By Luke Voogt
Geelong glamour couple Natalie O'Donnell and Simon Gleeson will welcome the audience into their world on Saturday with music that shaped their careers and lives together.
"We haven't had a chance to work on something together for such a long time," O'Donnell said, as the couple rehearsed in their North Geelong home.
"The show has given us the chance to reflect on some music that meant a lot to both of us in our early careers."
The couple celebrates almost 20 years together with music theatre classics, and some Billy Joel and Harry Connick Junior thrown in, in their new show Heart and Music.
They were thrilled to share the stage and their lives at The Playhouse, Geelong Performing Arts Centre, on Saturday night.
"To perform like this in our hometown is really quite special," O'Donnell said.
The couple moved to Geelong in 2011 to be closer to O'Donnell's family after years performing on London's West End.
"The amazing thing about London is it's really big but sections of it have a really strong sense of community," O'Donnell said.
"It's something we've also found in Geelong."
O'Donnell grew up in Geelong before moving to Perth at age 19 to study at the Western Australian Academy of Performing Arts, where she first met her husband.
They began dating a few years later when she played the role of Sophie in an Australia production of international hit play Mamma Mia! in 2001.
She played another character, Donna, in a more recent Australian version.
Her husband is best-known for his portrayal of Jean Valjean in Les Misérables on London's West End.
Their daughter Molly recently followed in her father's footsteps in a local version of Les Miserables, O'Donnell said.
"We were really blown away by the production quality and the talent that's coming through in the local scene."
Gleeson played the couple's piano as they practised on Monday.
"I can do enough to get us by," he said.
"If you're driving by you'll hear us, I'm sure the neighbours are sick of us already."
But on Saturday night they will have a talented line-up of musicians including pianist James Simpson.
"There's playing the piano and there's really playing the piano – we're lucky to have James," Gleeson said.
"They make such a good sound. It will be a celebration of life."