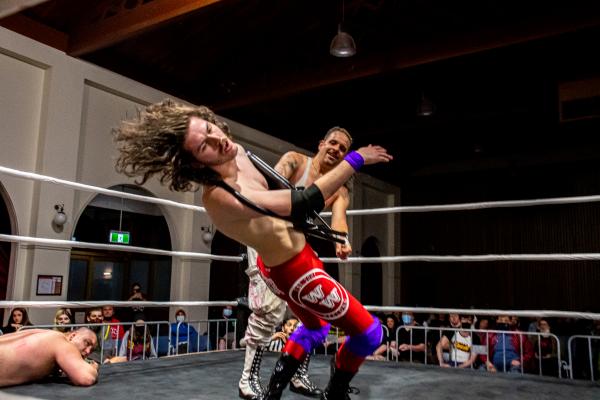 By Luke Voogt
"The call to arts" has taken Waurn Ponds wrestler Will Walker down two very different paths.
In one he is the frontman of melancholic Geelong rock band Floss Park.
In the other, he is the Sensational Will Walker, a high-flying and flamboyant but technically-savvy wrestler vying for Gold Class Wrestling's (GCW) tag team titles at Geelong West Town Hall on Saturday night.
"I've got the whole Chris Jericho thing going on," he said, in reference to the world-famous wrestler who also fronts rock band Fozzy.
Walker's in-ring character has "Freddy Mercury levels of flamboyance" and no fear in launching himself off the top rope to entertain crowds.
He joins forces with Josh Redfield and Mitcho the Tradie for a six-man tag-team battle against The Conflict Axiom for both the tag team and singles titles in a winner-takes-all bout.
"It's exciting to get back in the ring with them this weekend because something cool might happen," he hinted.
Walker got into wrestling at age eight watching John Cena lift and slam the 160-kilogram Umaga.
"I just watched him slam that big man and thought, 'that's unreal'," the 20-year-old said.
When his family moved from Swan Hill to Geelong in 2015 he spotted an advertisement for a local professional wresting academy – a chance to pursue his childhood dream.
"I wasn't having a great time at school … and nothing was really going for me," he said.
"I said to mum, 'I really want to do this, I think this is what I need to do to find myself in this new environment,' and lo and behold, it was."
Walker trained under Geelong wrestler Danny Gibbons, known in-ring as Danny Psycho.
"He said, 'you're going to have your first match soon, so you need to come up with a name'," he said.
"But John Cena was my favourite growing up and John Cena is his actual name, so if it's good enough for him, it's good enough for me."
Soon Walker was travelling to Ferntree Gully for Professional Championship Wrestling matches.
But wrestling in that competition gradually took a backseat to study, especially during VCE.
He later joined Gold Class Wrestling and began wrestling regularly again in late 2019.
For most of 2020, amid COVID-19, he concentrated on his band and finished an advanced diploma in music, making his return to the 'squared circle' in recent months.
He describes professional wrestling as art, like music, given "the level of creativity" in both.
"It's storytelling through matches – you go for some excitement and drama but you want to see that fight at the same time," he said.
"A good dose of both and you're in for a good show. A lot of people in Australia don't understand that it's a big thing here and that it's a growing industry."
While the results are fixed, the bumps, knocks and chair shots that wrestlers cop are all-to-real, and sometimes hurt, according to Walker.
"Chair shots go different every time," he said.
"It's hard to plan them. You just try to protect yourself and whatever happens, happens."
Professional wrestling was not for the fainthearted or untrained, he warned, with some moves popular in previous decades banned recently to prevent concussion or neck injuries.
"Even for people that do know what they're doing, there's no guarantee you won't get hurt," he said.
"There's always that chance that you'll land wrong or get the timing wrong."
But despite the risks he looked forward to wrestling at Geelong West Town Hall.
"I'm nervous but very excited," he said.
"All the belts are on the line this Saturday – so get down and watch the show!"
Details: www.facebook.com/GCWbrand