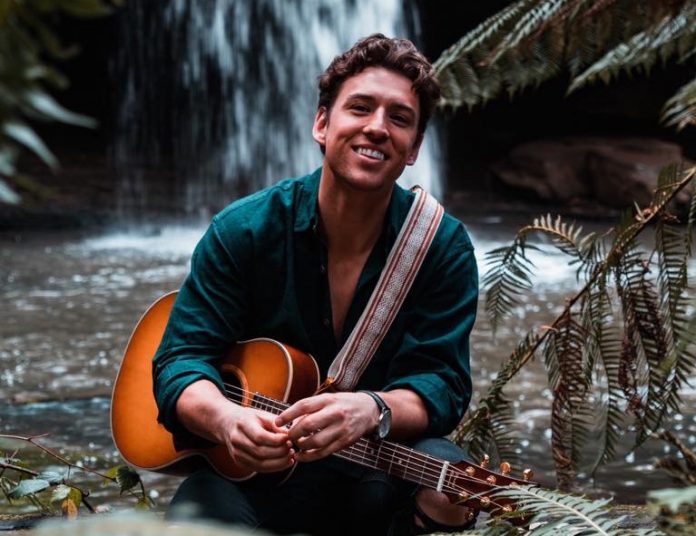 by Luke Voogt
Ceres singer-songwriter Taylor Henderson returns to Geelong with his biggest hits next Friday, along with a tribute to one of his greatest musical inspirations.
Henderson has already played two shows in The A-Team tour, which features the world-famous songs of Ed Sheeran.
The 26-year-old had loved performing alongside crowds "singing along from the first song", he told the Indy on Monday.
"It's like I've got a giant choir with me singing these Ed songs back at me."
A classmate introduced Henderson to Sheeran's music shortly after he placed third in Australia's Got Talent, behind his dad Cameron and winners Justice Crew, in 2010.
"I was onto him before he was the superstar he is now,' he said.
"I thought, 'this guy has such an incredible way of telling a story.' He was so honest, captivating and clever – it inspired me lyrically."
Henderson will play Sheeran's hits including Lego House, Thinking Out Loud and Shape of You when he comes to Geelong Arts Centre on 29 November.
"I've been touring now for six years and I always get asked, 'can you do an Ed Sheeran song?'" he said.
"I'm stripping it all back and showing people just how beautiful these songs are."
Henderson will also play his own hits including When You Were Mine and Already Gone, which are still getting regular airtime on Australian radio.
Henderson released the tracks in 2014, after he shot to fame with perhaps his biggest single, Borrow My Heart, in The X Factor Australia during 2013.
"When I got older and had finished school I realised I really wanted to give (music) a crack," he said.
He placed runner up to songstress and future Eurovision contestant Danni Im in the competition's final, before signing up to Sony at age 20.
"I was just a kid," he said.
"I was two years out of school and I was in the middle of an apprenticeship with my old man."
But Sony dropped Henderson in 2017, leaving him to figure out the "next option" and "hustle" as an independent artist.
"There are a whole lot of people who want to help you and there are people out there that want to use you as well," he said.
But being released had been blessing in disguise, Henderson said.
"I've never been happier than I am now."
His latest return to his hometown will feature new release Moving On and handpicked favourites from other artists who inspired his career.
"It doesn't matter where we perform we just want to put on a great show and have some fun," he said.
On the tour Henderson had also been playing his latest song Lucky, which he wrote for one of his best friends.
"I played it live a little while ago and they absolutely loved it," he said.
While many of his songs dealt with the "pain" of love, the soon-to-be-released track was more of a celebration, Henderson said.
"Everyone goes, 'can you please release this song?'" he said.
"I'm independent now, so I can kind of release whatever I want."
A few tickets still remained for Henderson's show at Geelong Arts Centre's Drama Theatre, promoters said this week.