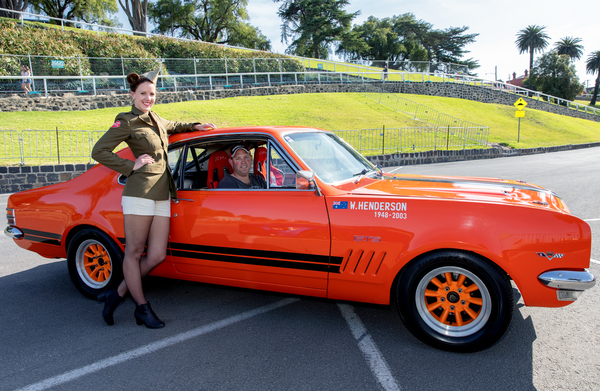 by Luke Voogt
Bannockburn's Dion Henderson will put his dad's 50-year-old rally car through its paces at the Geelong Revival Motoring Festival this weekend.
The late Warwick Henderson drove around Bathurst in the late '70s before tearing up rally tracks in the '80s his 1969 HT GTS Monaro, Dion said.
"It's good to get it out and have a bit of a run around in Geelong."
Dion still remembers going to race meets in the mid-to-late '80s and family dinners with racing legends Peter Brock and Dick Johnson.
He grew up driving "bombs" on dirt tracks in the family's paddock on the Bellarine Peninsula, back when racing drivers drove their cars home.
"They literally finished the event and drove them home," he said.
"My father didn't really want me to get into racing; he sort of thought it was becoming less of a sport and more of a business.
"His friends used to call him the duck. When it was raining he performed the best – it was like he had webbed feet."
While his dad was an expert in the rain, Dion was hoping for dry conditions for the quarter mile this weekend.
After 13 years in the SES the former Ocean Grove local has seen plenty of accidents and was keen to avoid any car trouble himself.
"It does go quite well in the wet but I'm just happy to take the vehicle home in one piece," he said.
The Monaro was more tuned for rallies and tarmac races than drags, Dion explained.
"For a quarter to half of the quarter mile it's just wheel spin," he said.
"It's just too much power on the back wheels to get the car to stick. It's pretty much just for a bit of fun."
Dion has another connection to local racing – his uncle Gary Grant was involved in the Geelong Sprints, which first ran in 1956.
The sprints were the predecessor to the modern-day Revival, which motor enthusiasts brought back to life in 2012 after an eight-year break.
Geelong Revival Motoring Festival begins today and runs across the weekend at Eastern Beach and surrounding venues.
The event features old-school cars, motorbikes, boats, caravans and supercars, vintage fashion, live music, trade stalls, delicious food and more.