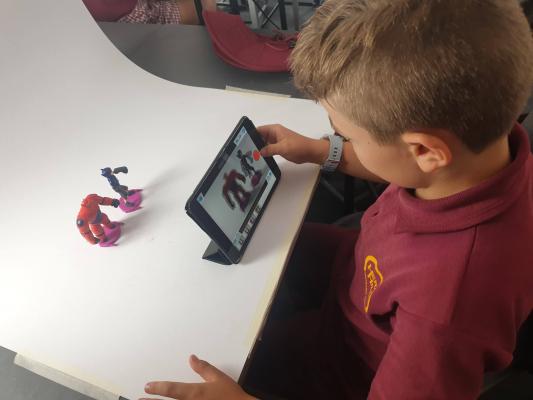 By Luke Voogt
Kids can create animals, super heroes and anything else they can imagine – then bring them to life – in an online workshop coming to Geelong Gallery.
The school holiday stop-motion avatar workshop is the brainchild of North Geelong animator and father-of-two Leigh Ryan.
Geelong Gallery recently began mailing out boxes with a rainbow of plasticine, pipe cleaners and accessories like googly eyes, to participating kids, Ryan explained.
"They get to build their avatars with all those materials," he said, as he prepared to film the step-by-step video for the workshop last Friday.
"We're going through the process of how you create an avatar – they can pretty much make anything they want."
The video then shows kids how to animate their avatar and, potentially, use it to create their own short movies and stories.
"And they have something they can show their parents and friends, and have a conversation about – which is a really great experience," Ryan said.
The workshop is designed to teach children how to 'move' their avatar and use basic 'squash and stretch' animation.
"There's some tricks you can do, especially if you're working with plasticine," Ryan said.
"Squash and stretch is a great way to enhance the animation and it's really cartoonish."
With two young daughters of his own, Ryan knows parents are on the lookout for school holiday activities, especially during COVID-19 restrictions.
"The fact that all this content is online is great," he said.
"I try to get a bit of humour in there as well because I know that kids and parents are watching – so I try to keep them interested."
The avatar workshop is based on Geelong Gallery's digital art guide for kids, Orby, which Ryan created with fellow Pillowfort Creative co-director Stuart Murray.
"Orby is basically a little robot hologram character that can turn into anything it wants," Murray said.
The duo first came up with the concept of Orby in January 2018, he explained.
"It's not a quick process to get these things from concept to completion, and we'd sort of been toying with the idea for some time," he said.
"I remember when we first floated this idea by the gallery and they showed interest in it, we were really excited to be partnering with a key Geelong-based organisation.
"We tried some ideas – there was a paintbrush and a thought bubble but, when we tested them on some kids, it was pretty unanimous that the robot was the favourite."
Before the pandemic kids could view Orby on an iPad in Geelong Gallery and the avatar would reveal interesting facts about art work.
"We have an android version in the works but it hasn't been released yet," Murray said.
When the lockdown hit, Pillowfort Creative devised an online version where children could view selected art and Orby superimposed on the walls of their own home.
"You can turn your home into a virtual gallery," Murray said.
"As far as we can tell, it's a first in Geelong and regional Victoria."
Their upcoming stop-motion workshop can be accessed via any tablet or smartphone, and is suitable for ages 10 to 13. Geelong Gallery recommends parent supervision.
Participating kids will receive a materials kit and can learn to make their avatar anytime during school holidays through a pre-recorded video.
Bookings close September 23.
Details: www.geelonggallery.org.au/events