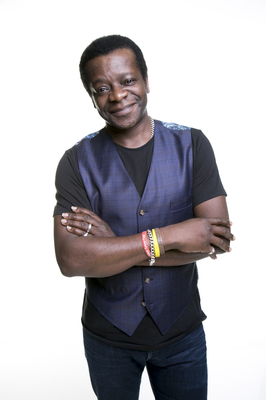 British jokester Stephen K Amos could visit Geelong for the last time this month in what promoters rumoured could be his farewell Australian tour.
Amos comes to The Playhouse on 26 April with his classic gags and brand-new material to celebrate almost 20 years in comedy.
The veteran comedian debuted at Edinburgh Fringe Festival in 2001 and has made hundreds of appearances on British TV.
He has also appeared on Aussie shows like Thank God You're Here and Spicks and Specks during regular visits for Melbourne International Comedy Festival.
"People think I live here but I don't," he told Channel 10 during his latest Melbourne visit.
Amos's most recent project was retracing a Roman Catholic pilgrimage route from the Swiss Alps to The Vatican for BBC.
The atheist comedian met the pope in an unexpected one-hour audience after the pilgrimage.
"I think I'm winning at life," he said.
Amos also spoke about learning the protocol for meeting Queen Elizabeth II.
"My reaction was like, 'What? Bow? For another living human being? No way!'" he said.
"I'm in the line-up, waiting for her, she gets in front of me, my knees went – I bowed like a bitch."
Amos hoped to "collect the whole set" of people famous "for ridiculous hats" this time in Australia.
"I can't wait to meet Crocodile Dundee," he said.
Amos was touring Asia this week, before returning for a Frankston show on 24 April, followed by the Geelong show.