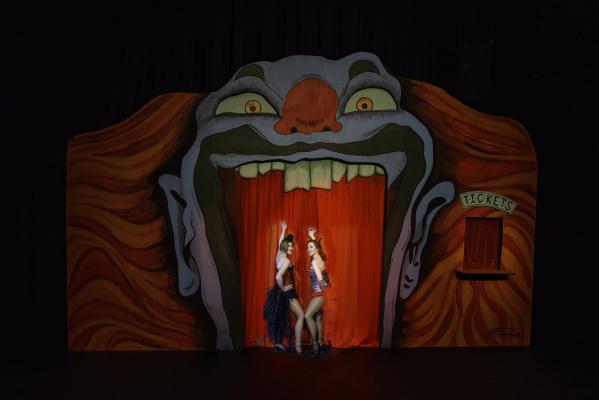 By Luke Voogt
Locals can step into a world of spellbinding magic and spooky surprises from their loungeroom in an all-new Potato Shed production on Halloween.
Viewers can creep through a haunted house via the camera lens, alongside magician Richard Vega, by tuning into Spookfest online on October 31.
"It's all family friendly – it's not going to give children nightmares but it will certainly stimulate their imaginations," venue manager Rob MacLeod said.
"It will give people a taste and teaser of what to expect in 2021. All will be revealed!"
COVID-19 has forced organisers, who have been working on Spookfest for more than 14 months, to recreate the magic online instead.
"You'll be walking through a haunted house and within that will be projections and live people," MacLeod said.
"You might feel like you're falling down a lift, or walking through a graveyard and something will appear, or you look at a portrait… and it might look back you.
"The big-ticket item is that you walk through a clown face into a weird circus world. This is where all the community groups get involved."
Performers from across Geelong and the Bellarine Peninsula will put on mini shows and dances in the big top, while 'Doris the green-faced witch' will show off her musical skills as DJ.
"There might be a group doing a Thriller dance or a zombie play," McLeod said.
"We've done lots of live streaming and we've done some preliminary testing of it."
Chantelle and Benji from Fresh Creative Entertainment will also perform dances to entice viewers into the mysterious world of Spookfest.
Viewers can even have their fortune told by MacLeod's latest alter ego Zoltar – if they dare!
"I'm sure if somebody passes a coin over Zoltar's palm he will act accordingly," he said.
"It's definitely not to be taken too seriously, what Zoltar ends up predicting."
After 45 years performing, Zoltar is one of MacLeod's most unique acting challenges to date.
"He's a little bit two-dimensional at times," he said.
"He has a very dry sense of humour – that's probably because he's made out of plastic."
Geelong council chief executive Martin Cutter congratulated the Potato Shed for celebrating the Bellarine Peninsula through Spookfest.
"Even through the immense challenges that our local arts community is facing … we are seeing some incredibly clever and creative re-imagining of its programs, transforming large-scale live events to equally large-scale … virtual experiences," he said.
"Everyone is invited to get into the spirit of Halloween by tuning into Potato Shed TV from 6pm to enjoy Spookfest."
Search 'Potato Shed TV' online to tune in.