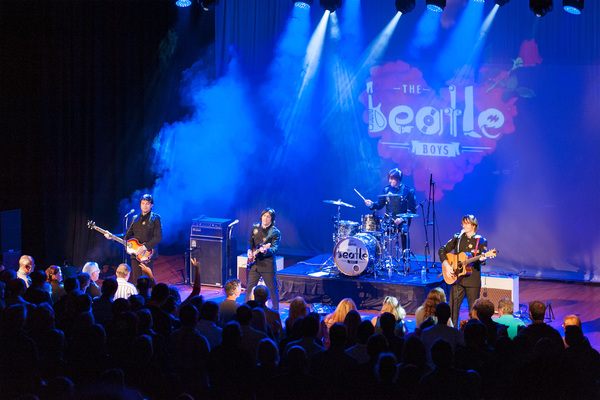 By Natalee Kerr
A "unique" tribute show pairing two legendary music icons together in the one concert is heading to Geelong this month.
Tribute artists Scot Robin and The Beatle Boys are breathing life back to rock and roll greats Buddy Holly and The Beatles in their latest show.
Robin has been walking in Buddy's musical shoes for almost three decades after first landing a leading role in the Australian version of the musical The Buddy Holly Story.
"When I got the role of Buddy it started an amazing ride I never saw coming," he said.
"It was only the second musical that I ever auditioned for. I went from playing in pubs to a landing a lead role in a major musical, it was pretty crazy."
Robin said after starring in the musical he was asked to put together his own show.
"I went for it and thought it would maybe last a couple of years, but here we are 28 years later," he said.
The 52-year-old has performed as Buddy more than 1000 times, taking his shows across the world.
But Robin said the show with The Beatle Boys is "another level" to his previous works.
"It keeps things fresh and gives the audience a new take that they've never heard before," he said.
"People love seeing the two acts on stage performing together."
The five musicians have been touring nationally since last February, performing more than 40 hits in their two-hour show.
Robin said he was a fan of The Beatle Boys for many years and "immediately jumped" at the chance to perform together.
"It's a great match-up as The Beatles were originally inspired by Buddy," he said.
They're not too far from each other musically so I thought it was the perfect collaboration."
Robin said grew up listening to Buddy's music as his dad was a "huge fan" of the performer.
"Buddy's been in my world for as long as I can remember," he said
Robin's impersonation led him to performing in Buddy's hometown in America multiple times where he also met Buddy's original band members, family and widow.
"They've always given me the thumbs up, they're rapt to see his music kept alive," he said.
The Buddy Holly and The Beatles show will come to Geelong Performing Arts Centre on 31 August.