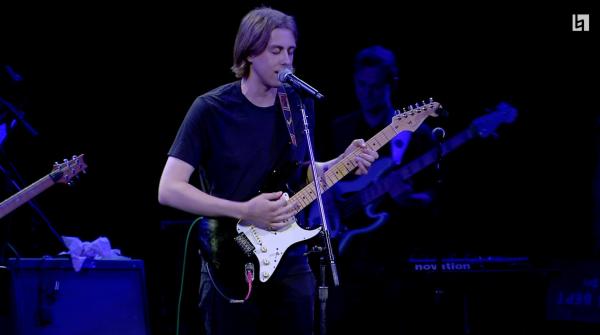 By Luke Voogt
Torquay singer-songwriter Ethan Farmer was destined for the US in 2020 after being accepted into the Berklee College of Music in Boston.
"But then COVID-19 hit and America became an absolute mess,' the 20-year-old said.
The pandemic decimated his live gigs, which went from about 100 a year, with various bands including his own, to just two after COVID-19 hit.
"I've just been writing, practicing and doing online gigs," he said.
But things are looking up for 2021 as Farmer prepares for a live concert celebrating 10 years of the Blues Boot Camp, which helped launched his fledgling career.
"I think it's going to be awesome, I haven't seen some of the people in-person for months," he said.
"It's very reinvigorating to get back into it."
Hosted by local blues veteran Wayne Jury from 2pm on January 24, the concert outside the Potato Shed features established and up-and-coming blues artists from across Geelong.
The concert replaces this year's boot camp with organisers planning to restructure the course for future years.
Farmer attended three boot camps from 2015 to 2017 after migrating from the UK with his family several years before.
Initially he learnt the guitar "as something to do" but his skills improved, so he joined the boot camp to take his music to the next level.
In 2015, his tutors encouraged him to enter a Bendigo competition, where he met two musicians who later became comrades in the Ethan Farmer Band.
"None of that would have happened without the boot camp," he said.
Other boot camp connections helped him make a full-time living out of music, he said.
"When I met people like Wayne, Sarah Carroll and Kelly Auty, I was able to expand my networks and got a lot more gigs around Geelong and Melbourne."
He returned to the boot camp as a tutor from 2018 to 2020 (prior to COVID-19) while playing in his own trio, a duo, a quartet and filling in for other bands.
"They just call me or text me if they don't have a guitar player and I'm there," he said.
Farmer was looking forward to hitting the stage again to play his blend of blues, soul and indie rock with a "poppy edge".
He will start studying at Berklee remotely next month and hopes to travel to the US in September for the second semester, if the pandemic lets up.
"You never can tell with COVID," he said.
Farmer is just one boot camp alumnus who has made a full-time gig out of music, according to Jury.
"It's surprising just how many of the students that have been through the Blue Boot Camp have gone out into the world to perform professionally,' Jury said.
"I wouldn't say that they wouldn't have done that if not for boot camp, but I'd like to say we've given them a leg up.
"That's the reason I do it."
Jury said now was the perfect time to rethink the boot camp and hold a Blues Boot Camp Reunion Concert instead, as live music gradually returns across Geelong.
"It's difficult for anybody to organise anything, especially group tuition," he said.
"Because of the way social media and streaming services have changed the industry so rapidly – it's probably good for me to sit back and take a breath.
"It's fantastic that we've been able to sustain it and keep it relevant for so long. I'm just so excited to see all these past students together."
Details: geelongaustralia.com.au/potatoshed