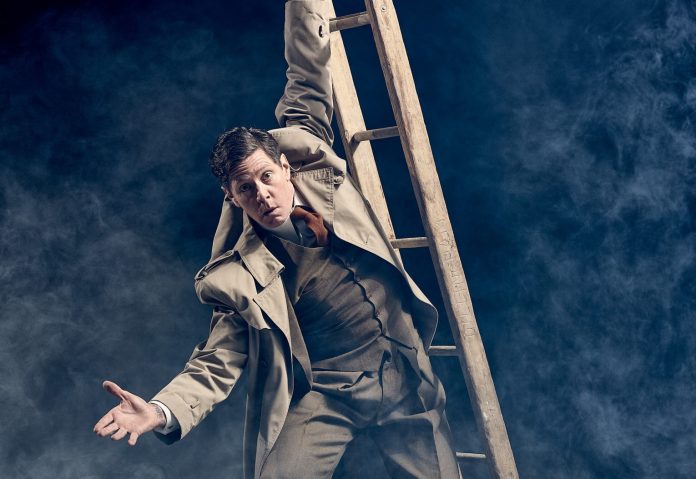 By Natalee Kerr
A spy comedy-adventure that sees four characters play 139 roles is set for a Geelong debut next month.
Following a sell-out season in 2016, stage production The 39 Steps returns for a limited season with a series of shows scheduled in Geelong for the first time.
Based on a "theatrical mash-up" of Alfred Hitchcock's classic 1935 film, the play takes on a smaller four-character ensemble that challenges more than 100 characters.
The story follows an international spy who finds himself at the centre of a seemingly unsolvable mystery that turns into a dangerous global game of "cat-and-mouse".
Australian actor Nathan Page, who plays on "hero" spy Richard Hannay, said the show resembles a "fun" piece of theatre.
"It's so wonderfully crafted and so beautifully written that there's just this joy of performing it," he said.
"What I've always loved about The 39 Steps is the simplicity of the devises used onstage – it's child's play at its heart of hearts.
"There's not so many places you can turn for beautiful childish entertainment for adults."
From train chases, plane crashes to dark murders, the 100-minute stage thriller embodies comedic style, drama and romance.
Page said the cast are continuously engaged and "vibing off each other" throughout the "crazy" adventure.
"One of the things you're forced to do in this is that you have to constantly listen. It's a lot of work but the moment you don't, is the moment you'll get lost," he said.
"So that's the pitfall, but it's also an amazing thing because all four of you are completely engaged all the time even if you're off stage."
A former elite cyclist, Page attended the Australian Institute of Sport and later competed in races across Europe.
He retired from professional cycling at the age of 19 due to injuries before then deciding to take up acting.
Page said the youthful nature of The 39 Steps allows him to revisit his athleticism, as it requires him to undergo "specific" physical conditioning.
"(The show is) just like watching this train that's almost derailing the entire time – there's a lot going on this moving montage," the 48-year-old said.
"It requires me to be as physically spontaneous as possible – similar to the way a contemporary dancer would prepare for a show… it's a challenge."
The 39 Steps comes to Geelong Arts Centre for five shows from the 6 to 9 November.