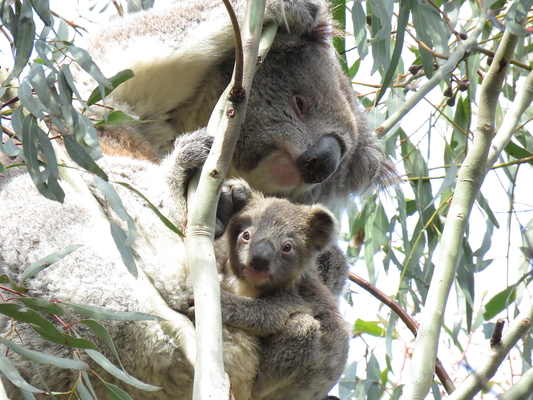 by Luke Voogt
Wildlife volunteers will give Geelong's koalas a helping hand on Sunday by weeding and other conservation work to protect their home.
Volunteers often spot the furry locals while working in the You Yangs, according to coordinator Janine Duffy.
"It's a great time of the year to see koala joeys," she said recently.
"There are five joeys in the local koala population and we've found two of them already today."
While Janine could not promise a koala sighting, she hoped the group would spot You Yang's most famous resident Clancy.
"He's one of the cockiest, most arrogant koalas I've ever met," she said.
"He's a bit of a performer. I often compare him to Chris Hemsworth – a lot of the American ladies love that."
Clancy is Australia's most famous wild koala and, boy, does he know it, according to Janine, who doubles as his 'publicist' on social media.
Clancy had almost 45,000 Facebook followers, the most of any non-captive koala, she explained.
His sexcapades rival that of the wildest celebrities; his latest two joeys resulted from mating with a mother koala and her daughter, Janine said.
While Clancy has taken off on hiatus Janine has been busily posting photos his new son Bunyip and daughter Lulu online.
"He takes no responsibility for them, pays no childcare," she laughed.
"His son is a spitting image. They're his second and third joeys that we're sure of."
Janine was confident Clancy would show his face again soon, as she had observed him for nine years.
"He's known us since he was in the pouch of his mother," she said.
"I think it he'll be back – he's done it before where's he's gone away for months."
Female koalas can travel several km in summer, in search of the male with the deepest voice, Janine explained.
"They're not lazy in summer," she said.
"Clancy was the sexiest koala of the year last summer – he was 'Mr Stud' and the women came from everywhere. We know far too much about these animals!"
But with long hot summers and drought on the horizon, Clancy and his fellow koalas are under threat.
Koala numbers declined by 46 per cent in the You Yangs between 2007 and 2017, despite a small recovery from 2011 to 2013, Janine said.
"Every summer it gets harder for koalas to survive. We lost at least two to heat this January."
But Koala Clancy Foundation's work helped improve local koala habitats that provide shade them from the heat, Janine said.
"It's like being a family friend, you're somebody they've known for their whole life. I feel very protective of them and very privileged to understand so much of their life."
Sunday's working bee costs $30 for adults and $20 for children, including nature walks with koala experts.
The money would go towards the foundation's efforts to preserve the cute creatures, Janine.
"When someone actually meets a wild koala and the koala turns and looks them in the eye it's one of the most stunning moments."
For more information on helping local koalas visit: koalaclancyfoundation.org.au/you-can-help/koala-conservation-day