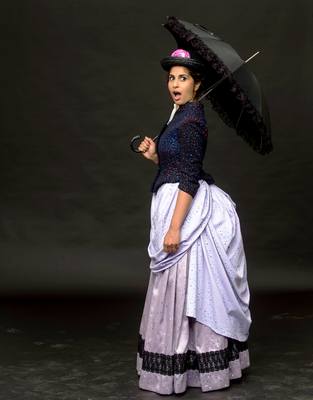 By Justin Flynn
Rhiannon Irving won't be on stage during the much-anticipated production Sunday in the Park with George when it plays in Geelong this month, but she still has an important role to play.
The 24-year-old Geelong local is the show's costume designer and, with much of the performance set in the 19th Century, the actors need to look the part.
"It's a slightly different process to what I've been through before," Irving told the Indy.
"I've had to do a lot of historical research and started reading the script in December.
"For Sunday in the Park with George, because it's based on a painting it was a case of having that painting alongside me while reading the script and approaching the characters as I normally would but looking at the painting and thinking, 'How can I make them look like that?'
"It still has to be believable – you never want someone to go, 'Oh, that hat is like two feet wide, so how did they carry it?'."
Sunday in the Park with George is set in Paris, 1884.
George Seurat sketches in a park, and he is preoccupied with composition, balance, light and harmony.
His subjects are busy wrestling with life in a changing world – in particular, his muse and mistress, Dot, who feels both alive and invisible within his gaze.
A century on, another visual artist – also named George – faces a similar dilemma as he attempts to forge a new direction amidst the pressure of high-end commissions and the merciless glare of New York critics.
For Irving, who studied at Christian College locally and then at Perth's Western Australian Academy for Performing Arts, theatre has been a part of her life since she was very young.
"I did theatre for a really short time while I was in high school," she said.
"My mum was an art teacher while I was growing up, so I've always been surrounded by art and performing so it made sense to combine the two."
Now a full-time employee as a costumier at Australian Ballet, Irving said her job was to make the production as authentic as possible.
"The point of a costume is to support the story," she said.
Sunday in the Park With George will be at Geelong Performing Arts Centre from Thursday to 17 August.