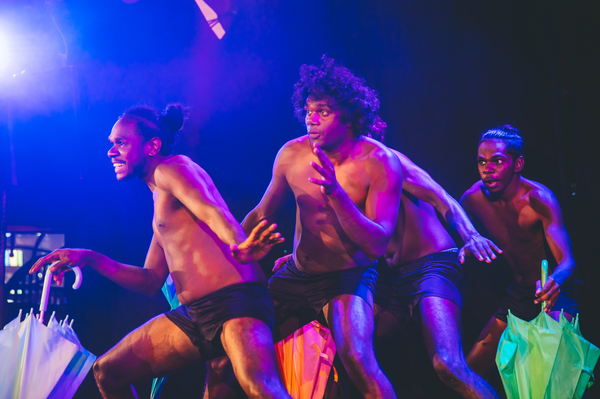 By Luke Voogt
Baykali Ganambarr earned international fame when he won an award that has past recipients including Jennifer Lawrence and Mila Kunis.
Now the Indigenous performer is on his way to Geelong for Djuki Mala's latest dance gig, at Spiegeltent in Johnstone Park.
"I heard it's going to be freezing, eh," Ganambarr told the Indy from Gympie.
The dance troupe was on tour in Queensland after travelling Australia and even squeezing in a two-week Canada tour between Perth and Adelaide performances.
"We're getting great audiences," said Ganambarr, who hails from the remote town of Galiwin'ku, on Northern Territory's Elcho Island.
"It's just amazing travelling, seeing new people and new places."
Djuki Mala mixed Indigenous culture and stories with contemporary dance and a good dose of humour, Ganambarr said.
"We want to make people happy and excited and we want them to enjoy every moment of the show."
Whether performing in Australia or overseas Ganambarr and his Djuki Mala "brothers" make an effort to get out and meet the audience after their shows.
Some crowd members from an Edinburgh show had no idea Australia had aboriginal people, he said.
"It's good for us to travel around the world and tell people who we are and where we're from. It's just amazing to share that story."
Ganambarr spent his first six years growing up in a small community outside of Alice Springs.
He and his cousin Yalyalwuy Gondarra several years ago joined Djuki Mala, which has been going since 2007.
"I feel like I'm making my family and elders proud back home and I reckon the other boys are feeling that way," he said.
"I feel so privileged and proud of how far Djuki Mala has come."
The dance troupe had become like "family" and would always cheer each other up if one member was feeling down, he said.
"We're all funny guys. You'd definitely be shocked if you saw us mucking around backstage."
When not on tour, Ganambarr teaches his "old hip hop stuff" to kids in workshops across Australia.
He also spent three months in Tasmania last year portraying an Indigenous tracker in new convict-era thriller The Nightingale.
The soon-to-be-released (in Australia) film is the work of Jennifer Kent, who also wrote and directed the internationally-acclaimed 2014 Aussie horror flick The Babadook.
"I'm pretty sure this one's going to be big too," Ganambarr said.
His portrayal of the film's main character won him the Marcello Mastroianni Award for Best New Talent at Venice Film Festival, where he met William Dafoe and Naomi Watts.
He remembered that "brilliant" moment accepting the award in front of hundreds of actors, producers and directors.
"I still just can't believe it," he said.
Djuki Mala were working on a new show and their Spiegeltent performances on 14 and 15 June would be their last time performing their current show in Geelong, Ganambarr said.
"Don't miss it because this is last time you're going to see it."