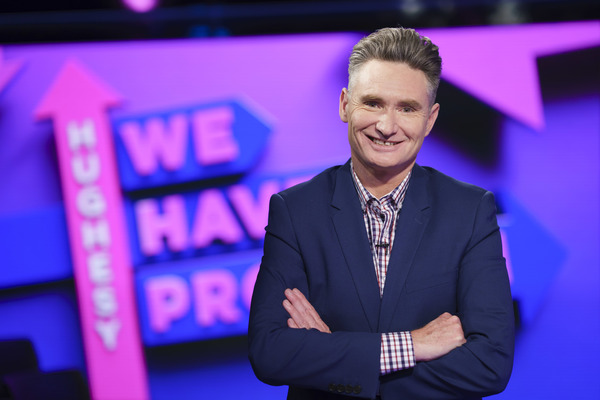 By Luke Voogt
Fresh off climbing 'Mount Kosciuszko' in home isolation, Dave 'Hughsey' Hughes will join forces with good mate Dave O'Neill to solve Geelong's problems tonight.
Bored senseless in the front room of his house, the Fox FM presenter was up till 1am last Saturday completing an iso challenge from a listener.
"The other day I put it out on the radio, what should I do?" Hughsey told the Independent.
"They suggested I simulate climbing Mount Kosciusko from sea level by stepping on and off a 50cm box – 4500 times."
"It's absolutely ruined me. At 10pm my son asked why don't I stop and finish it off tomorrow.
"I said, 'I'm not going to be able to walk tomorrow, so I've got to finish that now.' And I was right!"
Hughsey is isolating not just from the outside world but from his own family following an outbreak on Network Ten's The Masked Singer, on which he is a judge.
While not one of the show's 17 confirmed cases, he has to remain in isolation until this weekend.
"I haven't got it but I'm a close contact of someone who does," he said.
"I'm lucky, unlike many others, I can still do my radio job."
The comedian will pay tribute to another of his TV shows, Hughsey, We Have a Problem, when he joins O'Neil in Type 1 Lockdown Laughs.
The two famous Daves of Australian comedy will take questions from Geelong locals and attempt to solve their problems.
"Basically, they end up realising they're not as silly as we are, so they relax about their own issues," Hughsey said.
While the live-stream show is free, organisers are calling for donations to Geelong diabetes charity Type 1 Foundation.
According to organisers, the gig has raised more than $3000 so far.
Hughsey has done gigs for the foundation before, as his father-in-law, 68, and brother-in-law, 30, have had type 1 diabetes for most of their lives.
Together he and O'Neil plan to have a laugh at anything – even COVID-19.
"We've gotta be laughing as we walk around wearing masks and dealing with the crazy laws that we have," he said.
"Enjoy your freedom and being able to go out after 8pm – you're one up on anyone in Melbourne in stage 4 lockdown!"
After his last live gig in March, O'Neil began doing three or more online shows a week with appearances from puppet sidekick 'The Wuhan Bat'.
"He's taken refuge in my house – he's the new Julian Assange," the father-of-three said.
"My son's said, 'what if they put it on Twitter' and I said, 'I don't give a stuff'. He doesn't have an Asian [accent] or anything."
With a backdrop of Weet-Bix packets and toilet paper, poking fun at COVID-19 hoarders, for his online shows, O'Neil believes in having a laugh amid a terrible situation – politically correct or not.
"Occasionally you do a gig where you're not allowed to talk about [COVID-19]," he said.
"But you want to talk about the masks, isolation and home-schooling – it's like being in the middle of a war, you've got to talk about it."
O'Neil yearns to return to stand-up but has found small silver linings in stage 4 lockdown.
"The highlight has become the meals so I've become a bit of a chef," O'Neil said.
"When they asked me to do [Type 1 Lockdown Laughs] I roped in Hughsey because he can't go anywhere and he's got nothing to do.
"It's up to 17 people who've got COVID on the Masked singer, which is ironic, people in masks."
Details: www.type1foundation.com.au/events/type1-lockdown-laughs