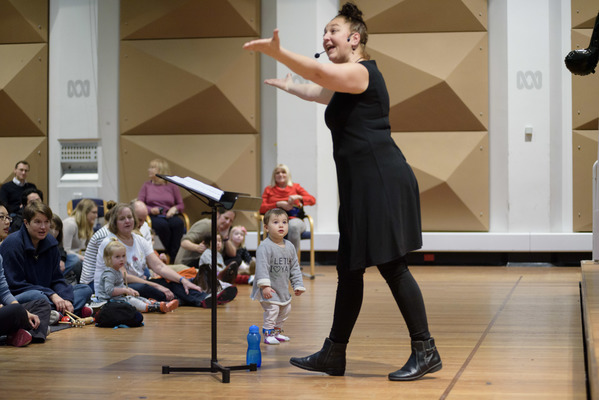 By Luke Voogt
Geelong kids can bang, hit and shake instruments while learning rhythm and melody alongside six Melbourne Symphony Orchestra musicians in Jams for Juniors on Saturday.
Music teacher Karen Kyriakou loves running the "unique" workshops and helping mini virtuosos to find their sound.
"I love it when I see the dads down there with little maracas, playing them with their kids," she said.
"There's something really wholesome about the experience."
Kyriakou has the "privilege" of listening to some of the "most amazing music of all time", rearranging it and designing activities for kids for the workshops.
"And then I get to watch the kids bring it life!" she said.
"It's the best job for me – at every level. We're as high as a kite afterwards."
The Carnival of the Animals workshops, coming to Geelong, aim to make classical music more accessible for kids, according to Kyriakou.
"I think it breaks down the barriers of what orchestral music is and makes it more fun," she said.
"Classical music is some of the most amazing music ever written, it has been kept alive for 300 years for a reason.
"The jams allow kids to explore classical music in an age-appropriate setting. For a lot of them, they get to see music acoustically for the first time.
"But, most importantly, they learn to love music – any music – and have the confidence to find their musical voice."
Children, parents, grandparents and other loved ones can clap, honk, quack and sing along with a six-piece ensemble, and try their hand at playing in the workshops.
"There are heaps of different instruments they can choose from as they walk in," Kyriakou said.
During the show she conducts the ensemble, sometimes with a little help from enthusiastic youngsters.
"I've got a couple of kids who come regularly to shows and, rather than play music, copy what I do," she said.
"That's their way of engaging with what they're hearing, which is great – they're connecting the movement and sounds."
A long-time violin player, Kyriakou was five-years-old when she fell in love with the instrument while watching her cousins play.
"I just liked the look of it and, very likely, the sound of it," she said.
"It can be very physical. (Playing violin in a string section) is a like a choreography."
Inspired by French composer Saint-Saens' compilation, Carnival of the Animals, the 40-minute sessions introduce kids to instruments and sounds through educational games and activities.
Kyriakou said the workshops had "amazed" parents since they began in 2012.
"I think we underestimate kids' abilities. They're legitimately playing a part within an orchestra – it's not just noise and mess, it's an actual arrangement."
But she said every child had a different learning experience through the program.
"We provide an environment where it's totally fine if they want to run or roll around."
Jams for Juniors runs at Geelong Arts Centre's Studio 4 on Saturday at 10am, 11.30am and 1pm.