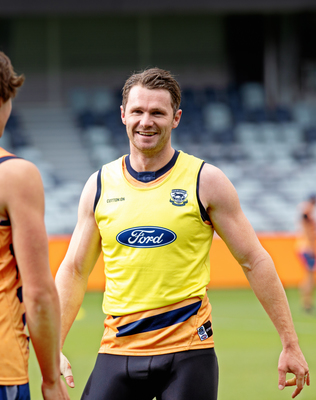 By Natalee Kerr
Geelong Cats fans will have the chance to "get up close and personal" with some of the clubs superstars at Corio's Gateway Hotel this month.
Champions Patrick Dangerfield, Tom Stewart, Tom Hawkins and Tim Kelly will step away from the football field and take to the stage for two "unique" fan-player experiences.
The "intimate" shows include players engaging in live onstage interviews along with answering questions from the crowd.
Organiser Vincent Handley said the players will open up about all topics including football, family and life during the ticketed shows.
"The boys will be interviewed on things ranging from their views on the current game, politics, their personal life and things in the media," he said.
"Fans also have the chance to ask the players anything they want to know."
A raffle raising funds for charity, a memorabilia auction, photo opportunities and a meet and greet with the players will also feature at the shows.
Handley said the events give fans "quality access" to some of the biggest stars in the game.
"The shows are very relaxed; it's in a more personal environment. We take away that wall between the players and the fans," he said.
"The players really enjoy being able to be themselves and connect with the fans on that more personal level."
The Gateway Hotel will host the Tom Cat and Danger Show on 14 August followed by the Tim and Tom Show on 21 August.