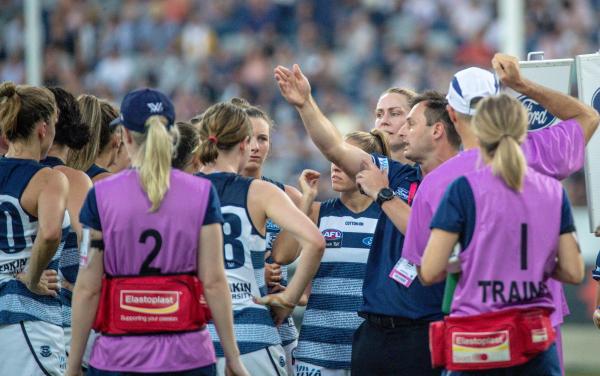 Geelong Cats have re-signed AFLW coach Paul Hood, who helped get the side to a preliminary final in its debut season in 2019.
The Cats on Monday confirmed Hood had signed a contract to coach the women's team for a third season next year.
Hood said he was optimistic about the side's future and its mix of talent.
"We have a great blend of youth and experience, and an excellent nucleus that will serve the club well for the next decade.
"The club also has a strong draft hand that will enhance our list.
"Our players are a great group to coach and even during the COVID-19 shutdown they have been working hard to improve their game.
"The club has shown great commitment to the women's program and we are all looking forward to the 2021 season."
Hood took charge of the Cats' women's program in 2017 when the club launched a VFLW team and was then named as inaugural coach of the AFLW squad.
Geelong's football general manager Simon Lloyd lauded Hood's efforts and was thrilled he would return to guide the program as senior coach.
"Paul has done an outstanding job in his role as head coach of our women's program," Lloyd said.
"Bringing the team together and building a quality high-performance program has been a key strategy of the club, and Paul has been exceptional in bringing this to life as head coach.
"We have seen great improvement and development in our squad, both among the senior and younger players.
"Over the past four years our women's and pathway programs have redefined our club, with Paul playing a crucial role as coach.
"We will continue to ensure our program is unique and integrated into our club's fabric.
"The 2021 season is one we are all looking forward to and we are excited that Paul will again head up the coaching team for our AFLW program."
The AFL cancelled this year's AFLW season due to the COVID-19 pandemic after six rounds.
Geelong had been fifth-placed out of seven teams in Conference A of the AFLW, with two wins and four losses, when the cancellation occurred.