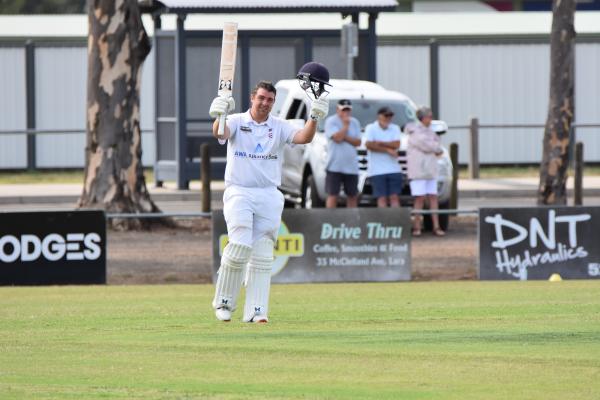 By Luke Voogt
Competitive cricket matches are set to begin across Geelong on November 13, Geelong Cricket Association (GCA) has announced based on advice from Cricket Victoria.
Cricket Victoria made the recommendation last week with the state predicted to reach 80 per cent of residents over 15 fully-vaccinated by November 5.
Under state government's reopening roadmap, community sport will recommence once Victoria reaches this target.
Despite November 5 falling on a Friday, Cricket Victoria recommended commencing the following weekend to allow for unforeseen circumstances.
"This provides a window of 16 weeks within which to complete a season ahead of finals," GCA secretary Peter Edwards said in a letter to clubs on Tuesday.
Edwards advised the season would consist entirely of one-day matches for the GCA's top three leagues.
The decision to switch to all one-day games for the second consecutive year due to COVID-19 will allow all teams to face each other twice in the top two leagues.
"One-day matches provide the most flexibility and opportunity for fixture adjustments should snap lockdowns be imposed," Edwards said.
"First XI matches will be white ball and coloured apparel before Christmas, and red ball and white apparel after Christmas to provide variation in playing conditions."
Although GCA1 will require two additional playing days, scheduled for Australia Day (Wednesday January 26) and Labour Day (Monday March 14) next year, to achieve this.
"The GCA3 competition will not be able to complete two full rounds of matches," Edwards said.
"Consequently, a seeded conference format – two conferences of six teams – will be adopted, based on performance."
GCA plans to commence synthetic wicket competitions a week after turf leagues on November 20.
"For the hard wicket competitions, sizes and make-up will be determined once additional affiliation requests are received," Edwards said.
"Requests to affiliate additional teams will be issued shortly and may differ from originally planned 10-team graded competitions.
"All of the planning considerations advised above are based on our current knowledge of the roadmap.
"The dynamic nature of plans may mean further alterations to fixtures if, for instance, vaccination targets are achieved ahead of time or are achieved later than the government's current indicative timeframes."