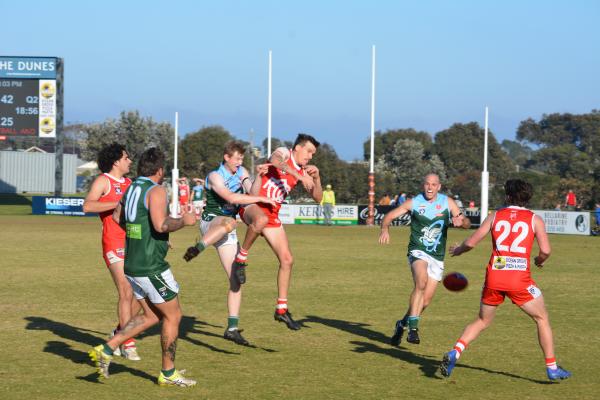 Local football leagues are set to resume play on Saturday following the state-wide easing of restrictions on Wednesday, AFL Barwon has announced.
"Our clubs and communities have already demonstrated their commitment to a COVID-safe season, which gives us faith that we can finish the season off with the showcase it deserves, in a COVID-safe manner," the organisation said in a statement on Tuesday.
Spectators will be banned from games, with only those necessary for play to go ahead, such as trainers, coaches and umpires, allowed to attend.
The same rules apply for training until restrictions ease further.
Club rooms, canteens and bars will remain closed, with no change to mask-wearing requirements.
Scanning into venues via QR codes is mandatory. Change rooms can be used with a 'get in and get out' approach.
AFL Barwon also announced the venues for the GFNL and BFNL finals.
The first two weeks of BFNL finals will take place at Portarlington Recreation Reserve, while Queens Park will host the last two weeks, AFL Barwon acting region general manager Sean Atkinson announced on Tuesday.
"After the fantastic job the Geelong Amateurs did in hosting the 2019 inter-league matches, we are excited to bring the Bellarine grand final to Queens Park," he said.
"It's a great reward for the complex and the club to be able to host the competition's biggest day."
Geelong West Giants will host all four weeks of the GFNL finals at West Oval, North Geelong.
"We are excited to see the 2021 GFNL Grand Finals in action at the recently redeveloped West Oval," Atkinson said.
"These first-class facilities and support from the Geelong West Giants will ensure an excellent experience for finals teams.
The commencement of the stage five redevelopment of GMHBA Stadium will impact the ability to meet COVID-19 event restrictions, preventing finals being played at the venue, according to AFL Barwon.
"Whilst we are disappointed to be unable to use GMHBA Stadium, it has provided a fantastic opportunity to use these new facilities at West Oval," Atkinson said.
"This will ensure the participating football and netball clubs will enjoy the proper showcase they deserve."
Bellarine Football and Netball League
ROUND 17
Saturday, July 31
Anglesea vs Geelong Amateur (ELL)
Barwon Heads vs Newcomb (HOW)
Drysdale vs Ocean Grove (MOR)
Modewarre vs Queenscliff (COM)
Torquay vs Portarlington (MCC)
Geelong Football and Netball League
ROUND 15
Saturday, July 31
Lara v St Mary's (BIS)
Leopold v Colac (LEO)
Newtown and Chilwell vs Grovedale (ELD)
North Shore v St Albans (WIN)
South Barwon v Bell Park (MCD)
St Joseph's v Geelong West Giants (DRE) (Netball only)
Sunday, August 1
St Joseph's v Geelong West Giants (DRE) (Football only)
Colac and District Football and Netball League
ROUND 16
Saturday July 31
Colac Imperials vs South Colac (WES)
Otway Districts vs Lorne (GEL)
Simpson vs Apollo Bay (SIM)
Western Eagles vs Birregurra (IRR)
Bye: Alvie and Irrewarra-Beeac Epworth
Senior Female Football Competitions
The senior fixtures will be adjusted to attempt to make teams play each other at least once in the season. This may not be possible in all competitions.
ROUND 15
Sunday August 1
Senior Female Division 1
Grovedale vs Geelong Amateur 1
St Mary's 1 vs Geelong West Giants 1
Newtown and Chilwell 1 vs Barwon Heads 1
Division 2
Drysdale vs North Geelong
St Mary's 2 vs Geelong West Giants 2
Newtown and Chilwell 2 vs Lara Senior
Female Division 3
South Barwon vs Barwon Heads 2
St Joseph's vs Colac Imperials
Torquay vs Geelong Amateur 2
Anglesea vs St Albans
Further details: aflbarwon.com.au