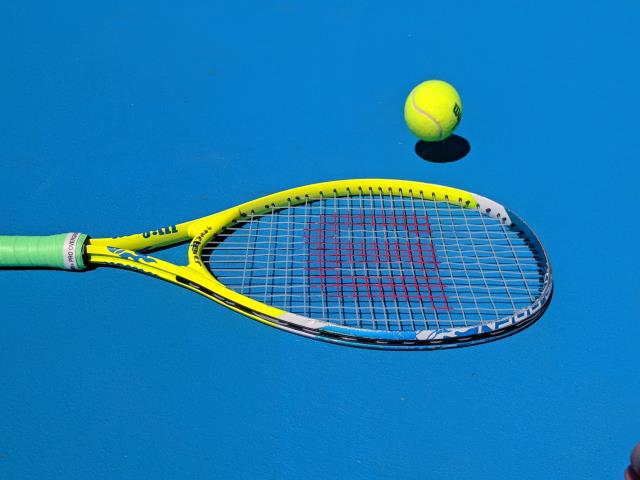 Local tennis by Donna Schoenmaekers
It was perfect conditions for tennis last Saturday – the sun was out, the wind was nowhere to be felt, and the competition was hotting up in Section 4 Boys.
Six points separated first from eighth, all matches were scheduled in pairs from the ladder, and at the end of the morning, only one team didn't change positions on the ladder.
First placed Clifton Springs travelled to Jan Juc to face second placed Surfcoast Blue.
Starting two sets down, due to being short a player, the Springs matched Blue for sets with Max Ballagh winning his singles and Shannon Ballagh teaming with Nathan Oddo to take the doubles while Zane Ryan and Rex Kadera won their singles for Blue to give them a 4-2 win.
The match up of third versus fourth saw All Saints host Highton and play out a close one.
Highton began on the back foot, a player down, but started well with William Gruer and Daniel Locke winning their singles.
All Saints countered with Alexander Williams taking the third singles, then Highton drew the match level on sets taking the doubles, but couldn't make up the game difference, leaving All Saints with the win overall.
Fifth versus sixth was Surf Coast Jan Juc White against Wandana Heights, and it was a close one. Vander Withers took the first set in a tie break for White, while Thomas Smith got the second for Wandana 6-2.
The third went to Matt Wolff for White and the fourth to Marcus Ludowyk for Wandana, leaving the teams tied at two sets all with a four-game lead to Wandana going into the doubles.
Here the match turned with the home team taking both sets, giving them a four sets to two lead with a four- game advantage.
The final match of the round saw Centre Court face Drysdale with some great tennis on display.
Centre Court's Madison Muir had a tough set against Owen McCoughtry with some long and evenly matched rallies, but her court smarts produced a win 6-1 in the first singles, while Drysdale's Harper Fawcett, with his consistency and court coverage, levelled the match with a 6-2 win.
The remaining two singles were also divided with Thomas Evans' (Centre Court) big hitting getting him a 6-2 win and Pat Lonegran's (Drysdale) movement across the court helping him to a 6-2 win.
With only one game difference between the teams, the doubles produced some fantastic tennis, but Centre Court won out in both, finishing with a 4-2 victory.
With all four home teams winning through, the ladder now stands with Jan Juc Blue on top, followed by All Saints, Clifton Springs, with Jan Juc White rounding out the four, then Highton, Wandana heights, Centre Court and Drysdale.