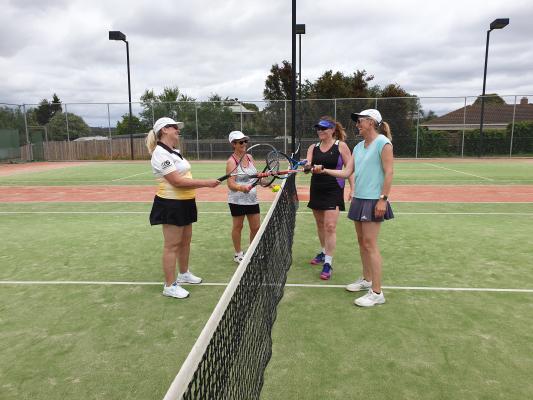 By Luke Voogt
The final round of Tennis Geelong's winter midweek season played out on Tuesday in a year of competition interrupted by COVID-19.
The season started on July 14 as planned, with 51 teams across eight sections, but COVID-19 restrictions caused the suspension of play after round three.
Competition recommenced on October 13 but Tennis Geelong abandoned the finals and awarding premiers due to the amount of missed matches.
"The season has been played out with all but one of the original teams, showing how much the ladies love their tennis," Tennis Geelong president Donna Schoenmaekers said.
In the final round, relative newcomers to section one Moriac faced off with Grovedale in a lopsided but competitive match, winning six sets to zero to move to third on the ladder.
Moriac's Fiona Blood and Bronwyn Tasker opened the ledger against Lisa Graham and Schoenmaekers with a 6-3 win and did not look back, dropping only six games each for the day.
Grovedale pushed many games to deuce, but the greater consistency of the Moriac women prevented Grovedale from converting on the important points, resulting in the Moriac win.
This summer Tennis Geelong, in conjunction with Tennis Victoria, is coordinating two Universal Tennis Rating (UTR) events across the city.
UTR is a system that rates all players in the game from beginner to professional, regardless of their age or gender.
"The aim of these events is to showcase how they can work, and to then help clubs coordinate events over the summer period," Schoenmaekers said.
"This is a great way for clubs to keep their players engaged over the summer break and get some new interest, as this is peak time for public interest in tennis."
A singles event will take place on Sunday with a doubles event occurring the following Sunday on December 6.
Both events will take place at four different clubs across Geelong.
Details: myutr.com