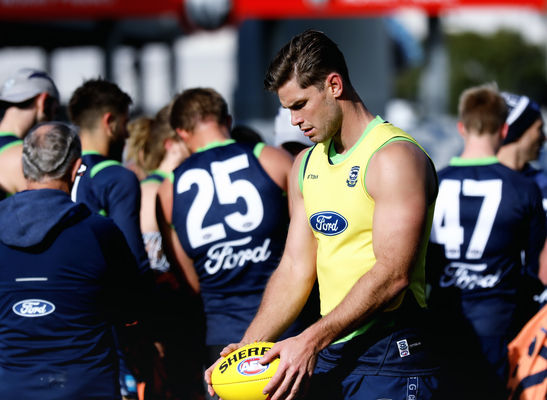 By Natalee Kerr
Chris Scott admits his side is "far from the perfect team" after Geelong's eight-game winning streak came to an end last weekend.
"We don't even buy into the fact because we are on top of the ladder that makes us the best team," Scott told this week's media conference at Kardinia Park.
"Anybody who watched us on the weekend wouldn't be scared of Geelong."
Scott's comments follwed the Cats' 11-point loss to Port Adelaide last round, their second defeat of the season.
"We didn't like the way we played," Scott conceded.
"They took some of our game away from us, particularly around the ball."
"The 11-point margin wasn't a true reflection of the difference between the two teams on the night."
Scott suggested a number of players displayed "uncharacteristically" bad performances, including forward Tom Hawkins.
For the first time in his 244-game career Hawkins failed to take a mark and was left goalless for the only time so far this year.
The loss also marked the eighth straight year the Cats have lost the game immediately following the mid-season bye.
But Scott argued the "absolute priority" for his side was to focus on being in best shape for finals over short-term performance.
"Some people might think that's a mistake, but it's not their decision to make," he said.
"We don't make any apologies for making an investment at this time of the year in the way our players are going to be prepared for later in the year."
"If that means we're not quite at our best for the game post-bye then we're prepared to accept that."
The Cats' poor record off mid-season byes would have no relevance ahead of the week break before finals, Scott insisted.
"It's a very different period, the week off going into a finals series as opposed to the mid-season bye," he explained.
"You tend to have very different physical preparation priorities, given that there's probably only a few games to go in the season."
Geelong will meet an in-form Adelaide at GHMBA Stadium on Friday night.
Prior to their bye last week, the Crows won three games in a row to sit in fifth position on the ladder.
Despite claiming a 24-point victory over Adelaide earlier this season, Scott said it would be wrong to approach their second meeting the same way.
"They've changed their game a little bit from when we played them in round three so it would be a mistake to look at that game and say let's just do what we did that game," he said.