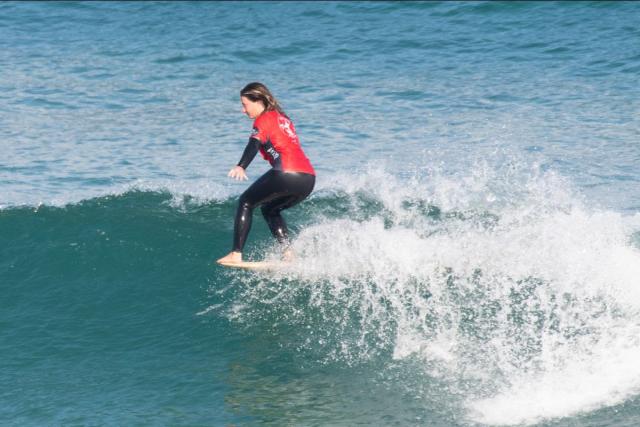 Day one of the Australian Indigenous Surfing Titles kicked off today at Bells Beach / Djarrk in small clean conditions.
The word Djarrk has recently been discovered as the original name for Bells Beach by the Wadawurrung Traditional Owners.
With the small conditions and an anticipated increase in swell over the coming days, only the opening non-elimination round of the Longboard Men and Open Women's were completed over the high-tide.
Finishing with the highest heat score of the day and the Surfline Wave of the Day was former event champion Summer Simon (Gold Coast, QLD) in the Open Women division.
Simon finished in her opening heat with a score of 19.33 (out of a possible 20) including a perfect 10-point ride.
"It was the biggest set of the day and I kept doing so many turns. It was really fun," said Simons.
"I love Bells. It's such a fun wave and the cultural significance around the area is amazing. This event is so different to any other event, it's my favorite event of the year."
Other standouts in the Women's division include reigning champion Jaz McCorquodale (Bateau Bay, NSW), Kauri Heuston-Connor (Burleigh Heads, QLD) and Bohdie Simons (Gold Coast, QLD).
The Longboard divisions saw Landen Smales (Noosa, QLD) dominate his opening heat scoring a heat total of 16.00. Other stand outs included Robbie Page (Kempsy, NSW), and James Archibald (Port Macquarie, NSW).
The event will continue on Saturday (May 28) morning with a call to be made at 7.30am for an 8am start. Master's Men Rd 1 will hit the water first, with all other heats on standby.
Live scores, video and photos for the event can be found at www.australianindigenoussurfingtitles.com