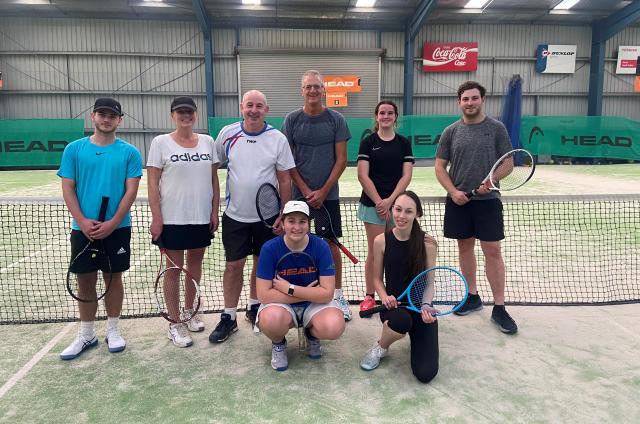 LOCAL TENNIS with Donna Schoenmaekers
It was a perfect day for tennis on Saturday, with blue skies and not a breath of wind.
Despite the fact that things were close on the ladder in Section 2 Mixed with one round left in the first half of the season, things had changed significantly by the end of the day.
It was a battle of first versus second when Grovedale travelled to Wandana Heights to face ladder leaders Blue.
Grovedale's Lynette Marshall and Hiro Sekine matched up well against Nicole Wright and William Tohill from Blue, but went down in a tie break in the first set, while Maddison and Daryl Moore were too strong in the second taking it 6-3.
Wandana Blue continued its winning run, taking the Ladies 6-3 and another tie-break in the men's.
The final two sets went Wandana's way 6-4, 6-3 giving it a clean sweep, leaving Grovedale keen for a rematch after winning 25 games without taking any points, and dropping to third.
Wandana Heights White continued the good day for the club when it travelled to Lara to face its White team, and with another 6-0 win pushed into second spot.
Lara battled hard, but in a friendly match with lots of banter, Wandana was too consistent, limiting Lara to 17 games.
The third match of the round was also a clean sweep with Newcomb struggling against Centre Court.
While long rallies and a broken string were features of the day, Centre Court cemented itself in the four at the halfway mark of the season.
The final match of the round was the closest of the day when St Mary's hosted Lara Blue.
St Mary's started strongly with Georgia Cowdery and Thomas Crosbie taking the first set 6-0, but Lara countered with Ashleigh Hughes and Alex Watson taking the second 6-3.
St Mary's proved too strong taking both doubles 6-2, 6-3, and then sealed the win when Crosbie won his third set for the day with Trish Kennedy to give St Mary's a 4-2 win, and a move from seventh to fifth place.