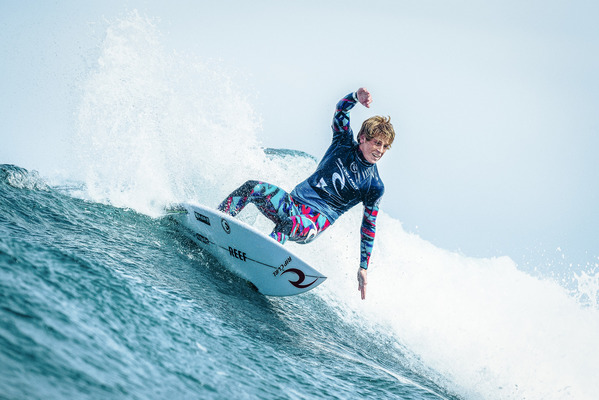 By Luke Voogt
Torquay's Harrison Mann and Jan Juc teen Xavier Huxtable have bowed out of the Bells Beach Ripcurl Pro after earning wildcard entries into the comp.
Mann, 25, scored a total of 8.37 in his elimination heat against fellow Australians Owen Wright (11.3) and Jack Freestone (10.8), who both progressed.
Organisers paused their heat on Sunday after spotting something suspect in the waves, which turned out to be a large plume of seaweed.
Mann narrowly beat Barwon Head's Billy Harrison earlier this month for a wildcard entry into his first Bells Beach Ripcurl Pro.
"This has been a childhood dream of mine since I was a kid on the beach watching Kelly Slater ring the Bell," Mann said last week.
Sixteen-year-old Huxtable also missed out on the round of 32 by just .34 points with a score of 11.4 in the elimination round.
Fellow Australians Soli Bailey and Wade Carmichael progressed with scores of 11.74 and 13.03 respectively.
As the women's round three got underway yesterday organisers predicted a "50-year storm" would create the largest waves at the event in decades.
Surfline's Kevin Wallis predicted "double overhead" swells this morning, moving to "triple overhead" this afternoon, with 5m to 6m faces.
WSL Competition Director, Kieren Perrow was similarly excited.
"That swell we've all been waiting for is starting to show here at Bells and we are excited for an epic three days of competition to close out this event.