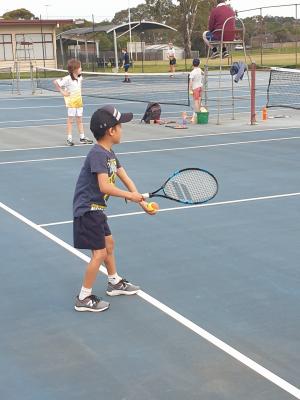 Donna Schoenmaekers
The Tennis Geelong Orange Ball competition is gaining momentum, with 20 teams signing up for term four.
Orange Ball has become the first step for introducing kids into competition from coaching, and is a great opportunity for the kids to play while they are still developing the skills to play a match.
With lower compression balls and a smaller court (three-quarters of the size of a regulation court) the kids, and a lot of the parents, are learning some of the rules as well as how to rally before progressing to the full size court.
The Orange Ball competition has been on offer from Tennis Geelong since February, 2020, but with COVID interruptions, has had a patchy start.
Now that life is more settled, this competition has sprung back to life.
Initially this competition was a five week season each school term, but term four has seen an increase to seven weeks to make the most of time available leading into Christmas.
The 20 teams are split into three sections – Barty, DeMinaur and Alcott – with teams coming from 12 different clubs.
The format for play is based on the current junior format of four players, any mix of boys and girls, each playing a singles and doubles match.
The matches are played as Fast4 sets, so first to four games, with sudden death deuce.
While scores are recorded, the competition is about learning the game, and it's a great opportunity for the family to be involved, with parents directing play and scoring, while siblings act as ball kids to keep the matches moving.
All of the teams are having fun, and having some wins, so no doubt we will see some of these juniors move into the Green Ball ranks next year.