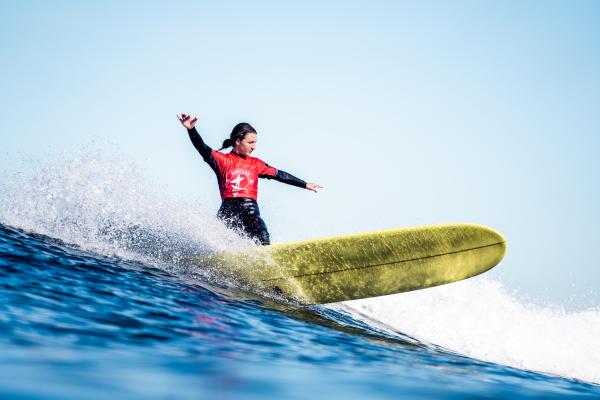 By Luke Voogt
Teen surfer Bea Conroy nailed a perfect 10-point ride backed up with a 9.73 to win the Victorian women's open logger division on Sunday.
The Point Lonsdale local also managed a 9 and an 8.87 to win the open longboard division in clean surf at Point Impossible.
"I'm really shocked!" Conroy said, after winning the second round and championship in both divisions of the 2021 Victorian State Longboard Titles.
"I never thought I would win an open state title. It's so good to be around some incredible female surfers and progress my surfing to the next level.
"Having some of the amazing female longboarders in this state has really pushed my surfing to an area it wouldn't have got to, if it wasn't for them."
"The waves were really good all weekend, I'm just happy to win along with my brother Ted!"
Conroy's younger brother Ted scored a combined total of 17.07 in the under 18 boys to clinch both the second round and the championship.
Torquay's Will Cousins was also unstoppable in the open men's logger final, locking in two excellent rides to claim victory and the state title.
"I'm stoked, it was awesome weekend," Cousins said.
"The waves were perfect both days and it was nice to find a few and get to the nose!"
Cousins also won round two of the open longboard falling just short of dethroning state champion Andrew Burgan (Phillip Island), who took the trophy after winning round one and placing second on Sunday.
"The longboard titles are great," he said.
"You make relationships with everyone over the years and it's always good to see them all.
"It's generally a nice vibe in the water and it's just great to surf in pumping waves with them."
Under 18 boys
Round 2
1st Ted Conroy, 17.07
2nd Bailey German, 16.47
3rd David Rau, 13.57
4th Tate Russell, 12.77
State championship: Ted Conroy
Runner up: Bailey German
Under 18 girls
Round 2
1st Cookie Robinson, 11.50
2nd Niamh Moore, 9.46
3rd Charlotte Kerrison, 8.54
4th Anna Thompson, 4.73
State championship: Niamh Moore
Runner up: Anna Thompson
Open men
Round 2
1st Will Cousins, 18.60
2nd Andrew Burgan, 15.96
3rd Arturo Tallarida, 10.83
4th Ethan Harbison, 9.34
State championship: Andrew Burgan
Runner up: Will Cousins
Open women
Round 2
1st Bea Conroy, 17.87
2nd Eglantine Balland, 14.20
3rd Natalie van der Heyeden, 12.17
State championship: Bea Conroy
Runner up: Eglantine Balland
Over 40 men
Round 2
1st Greg Brown, 13.35
2nd Tomaso Bellisai, 13.30
3rd Chris McSween 13.20
4th Yestin Griffiths, 11.44
State championship: Greg Brown
Runner up: Tomaso Bellisai
Over 40 women
Round 2
1st Natalie van der Heyden, 15.83
2nd Jacquie Chambers, 13.43
3rd Penelope Andrews, 12.77
4th Carolyn Lalor, 7.04
State championship: Natalie Van Der Heyden
Runner up: Jacquie Chambers
Over 50 men
Round 2
1st Greg Brown, 18.03
2nd Brian Kuit, 13.24
3rd Yestin Griffiths, 13.04
4th Andrew Lidsey, 11.24
State championship: Greg Brown
Runner up: Brian Kuit
Over 50 women
Round 2
1st Carolyn Lalor, 11.54
State championship: Carolyn Lalor
Over 60 men
Round 2
1st John Lane, 14.00
2nd Brain Thompson, 13.47
3rd John Ayton, 13.34
4th Brian Kuit, 12.24
State Championship: John Lane
Runner Up: Brian Thompson
Over 60 women
Round 2
1st Heather Peck, 18.77
2nd Gayle Renzenbrink, 16.46
3rd Jenene Nelson, 10.80
State championship: Heather Peck
Runner up: Gayle Renzenbrink
Over 70 men
Round 2
1st Bob Smith, 18.87
2nd Wayne Yates, 13.43
3rd Jack Triep, 11.93
4th Colin McGowan, 9.87
State championship: Bob Smith
Runner up: Wayne Yates
U18 boys logger
Round 2
1st Ted Conroy, 17.74
2nd Bail German, 17.36
3rd Tate Russell, 12.66
4th David Rau, 11.33
5th Finn Stratford, 4.83
State championship: Ted Conroy
Runner up: Bailey German
Under 18 girls logger
Round 2
1st Anna Thompson, 11.17
State championship: Anna Thompson
Over 40 men logger
Round 2
1st Tim Edwards, 18.40
2nd Liam McCafferty, 13.67
3rd Tomaso Bellasai, 12.73
4th Matthew Solly, 8.03
State Championship: Tim Edwards
Runner up: Tomaso Bellisai
Over 40 womenl
Round 2
1st Penny Andrews, 15.40
State championship: Penelope Andrews
Open men logger
Round 2
1st Will Cousins, 18.53
2nd Chad Mclauchlan, 18.20
3rd Lachie Sandor, 11.80
4th Matthew Robertson, 10.73
State championship: Will Cousins
Runner up: Chad Mclauchlan
Open women logger
Round 2
1st Bea Conroy, 19.73
2nd Emma Web,15.37
3rd Eglantine Balland, 9.90
4th Lucy Ruffy, 5.60
State championship: Bea Conroy
Runner Up: Emma Webb