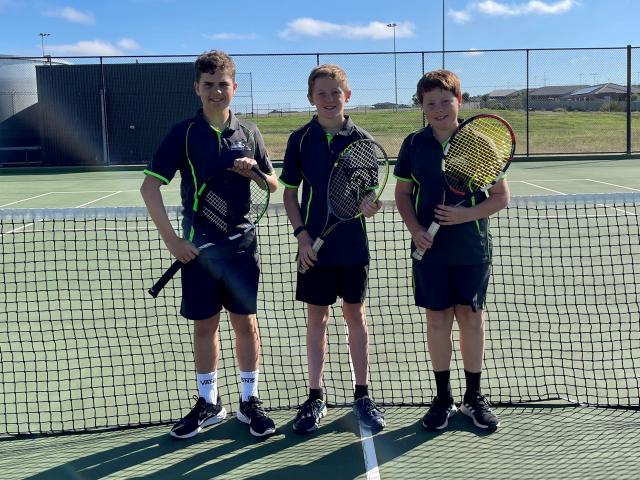 Donna Schoenmaekers
Tennis Geelong's home and away season came to an end this week for eight team sections, and things couldn't have been closer in the junior competitions, Girls Section 3 and Section 14 (Green Ball).
The Girls Section 3 ladder was tight going into Saturday's matches with only four points separating second and fifth, the pressure was on to earn a home final, and clinch a finals berth.
Unfortunately, it was a week marred by missing players as top team Drysdale couldn't field a team, handing second placed Surfcoast Torquay a walkover and a guaranteed rematch next week.
Centre Court was also short a player in its match against Ocean Grove in the battle of seventh and eighth.
Of the four sets that were played, both teams won two to leave the match in a draw and the teams' positions unchanged.
Third placed Barwon Heads took on sixth placed Grovedale at home, with both teams missing a player.
Despite being too far behind to make finals Grovedale finished with a win, taking three of the four sets for the morning and leaving Barwon Heads' finals hopes at the mercy of the Highton and Leopold match.
Fifth placed Highton hosted fourth placed Leopold in what proved to be the deciding match for the four.
Leopold started strong with Ellie Gibson and Holly Verlin both winning their singles 6-4, but Highton kept its finals chances alive with Ruby Dowd and Madelyn Wills winning their singles 6-2 and 6-4.
The match and finals positions came down to the doubles, where the sets were split, as were the points as the match ended in a draw, three sets all 26 games all.
This meant Leopold moved into third position with a home final, and will meet Barwon Heads who dropped to fourth.
Highton finished fifth, one point out of finals contention.
Section 14 (Green Ball) was an even tighter affair, with two points separating fourth and seventh, and even eighth placed Wandana Heights still in contention.
All Saints and Geelong Lawn consolidated their positions in second and third with 4-2 and 5-1 wins over Grovedale Yellow and Black respectively.
Wandana Heights tried hard to push itself off the bottom of the ladder with a positive end to its season, winning over Highton 4-2, but the surprise of the day went to Waurn Ponds.
Waurn Ponds upset top team Bannockburn in a thriller, three sets all and a two game advantage.
The Ponds took an early lead with Poppy Feldman and Evie Noga winning the first two singles, but Bannockburn rallied with Mitchell Showler and Hudson Gillett winning their singles matches, leaving the result decided by the doubles.
Again the sets were split, but Waurn Ponds was ahead on games and took the win, lifting it from seventh to fourth, and keeping its season alive.