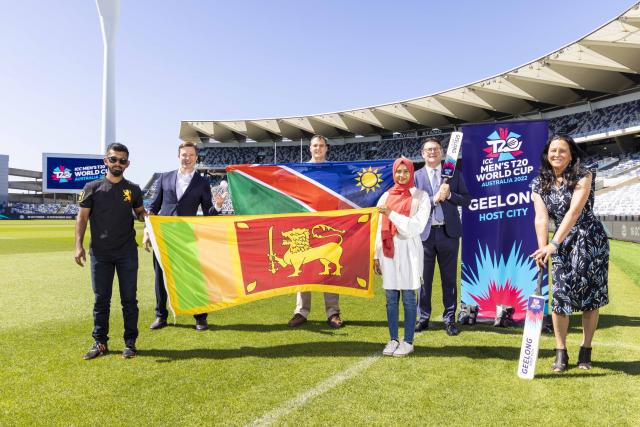 Justin Flynn
GMHBA Stadium will host six games over the space of five days as part of the ICC Men's T20 Cricket World Cup later this year.
The fixture for the world cup, which Australia enter as defending champion, was revealed on Friday, with Geelong picked to host the first match of the tournament.
Geelong will host Group A matches, which include Sri Lanka and Namibia and two other teams that have yet to qualify for the tournament.
Sri Lanka and Namibia will open the tournament on October 16 at 3pm at Kardinia Park and with a huge Sri Lankan population residing in Melbourne, it's expected that a big crowd will be in attendance.
The two qualifying nations will then play each other at 6pm in a huge double header.
Another two double headers await on October 18 and 20 when Namibia and Sri Lanka each face both group qualifiers.
The two highest placed teams in the group will then head to the main tournament to compete in Group 1 along with Australia, New Zealand, England and Afghanistan.
Sri Lanka is ranked eighth in the world on the ICC T20 rankings while the African nation of Namibia is ranked 16th.
"Our calendar of major events in 2022 is full of highlights but this is a huge coup," City of Greater Geelong deputy mayor Trent Sullivan said.
"As the only regional city in the country to host T20 Men's World Cup matches, Geelong is cementing its reputation as a destination for premier sporting and cultural events.
"Hosting two countries for a total of six games will bring thousands of visitors to the region for a celebration of cricket, culture and community.
"We are honoured to host Sri Lanka and Namibia and to showcase Geelong on the global stage."
Kardinia Park Staidum Trust chief executive Gerard Griffin said the stadium "has a proud history of cricket and we look forward to welcoming the ICC Men's T20 World Cup in 2022, alongside passionate fans cheering on their country."
Australia kicks off its World Cup on October 22 against New Zealand at the SCG.
Australia has just one game scheduled for the MCG, against England on October 28, but the final, on November 13, will also be played in Melbourne.