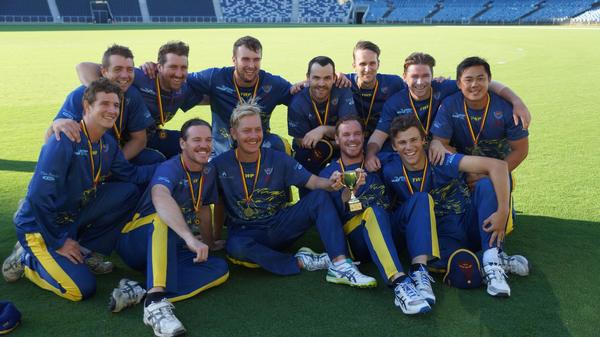 Local Cricket, by Jim Timberlake
Geelong Cricket Club did exactly what it needed to last Saturday, thrashing Kingston Hawthorn by 206 runs in a dominant display.
The Cats batted first, with openers Tim Ludeman (126) and Nick Browne (138) putting on an incredible 280 for the first wicket.
Josh McDonald chipped in with 60 to see the side score an imposing 7/374 from 50 overs.
In reply, Kingston Hawthorn was never in it as the Geelong bowlers strangled the run chase.
Led brilliantly with the ball by Brenton McDonald (3/38) and Brody Couch (2/16), the home team romped to a huge win to set up the Cats nicely in fifth position on the ladder.
With a return to the two-day format now, Geelong hosts 13th placed Prahran over the next two Saturdays in a game that could go a long way toward securing a finals spot.
Geelong Cricket Association now also returns to two-dayers for the remainder of the season, and with just four games of the home and away season to go the race for finals spots is on for young and old.
In division one, the game between fifth placed South Barwon and sixth placed Geelong City looks like being the most important game for the season for both teams.
For Geelong City in particular, a win here would keep the team in touch with the top four but a loss would make it very hard to play finals this year.
The Sharks enjoyed a return to form at home last week against Leopold, which had been in reasonable form and went in the slight favourite.
Richie Oliver (76) top-scored but had good support form Logan taylor (38) and Luke Inglis (31) as the side posted a moderate but competitive 9/180.
When the Lions reached 2/100 in reply, and with Joe Vallelonga (64) looking good, things seemed grim for the hosts.
However, spin duo Chris Bambury (3/16) and Henry Collins (3/52) spun their side back into the game as Leopold collapsed to be all out for just 153 in a disappointing batting display.
The Sharks will be keen to gain some momentum from that stirring win, and will start favourites over South barwon.
Selections: Bell Post Hill v ST JOSEPHS, Grovedale v EAST BELMONT, NORTH GEELONG v Leopold, GEELONG CITY v South Barwon, NEWTOWN & CHILWELL v Lara.
In division two, Marshall's loss to Bell Park last Saturday could have massive repercussions for its season as they side now finds itself nine points out of the top four in sixth place.
Fifth-placed Highton is out on percentage only and appears the only team capable of forcing its way into the finals.
Highton takes on Manifold Heights this round in a game they should win, as the Sharks have struggled to remain competitive all season.
The other intriguing game will be played at Herne Hill Reserve as St Peters plays Bell Park in a game that looks very even.
Both sides have won their two games since Christmas, and really look like they are starting to peak at the right end of the season.
The winner here will almost lock away a top-four spot, while the loser will leave itself exposed to Highton.
Selections: Thomson v MARSHALL, St Peters v BELL PARK, Torquay v MURGHEBOLUC, HIGHTON v Manifold Heights.
And in division three, Teesdale is in danger of slipping out of the finals race if it can't lift and beat local rival Bannockburn this game.
The Roos were competitive last week against St Albans Breakwater but just failed to get the chocolates in a narrow two-run loss.
Ben Firman top scored in their score of 8/223 but the bowlers just couldn't get the job done as the Super Saints passed them in the last over seven wickets down.
Bannockburn has been in great form all season and will be very hard to beat here but Teesdale is a proud club and won't go down without one hell of a fight.
Selections: Guild Saints v GEELONG WEST, Modewarre v ALEXANDER THOMSON, CORIO v Waurn Ponds Deakin, BANNOCKBURN v Teesdale, Newcomb & District v ST ALBANS BREAKWATER.