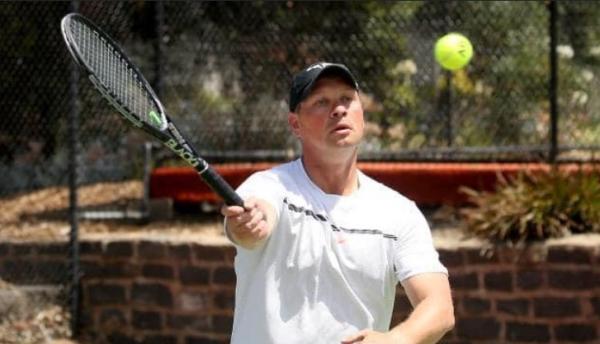 LOCAL TENNIS Donna Schoenmaekers
Vocal spectators witnessed a tight tussle at Hamlyn Park as Geelong's top two men's sides battled for supremacy last Saturday.
Plenty of shots grazed the net as Section 1 ladder-leader Hamlyn Park took two tightly-contested opening sets against second-placed Clifton Springs.
Strong serving from Rob Arzanovski made life difficult for Clifton Springs, giving Hamlyn Park the early lead.
But Greg Luke and Lucas Oddo fought back for Clifton Springs, winning the next two and evening the score at 22 games apiece.
The crowd volume increased as Clifton Springs won a dramatic tie-break in the fifth to take the lead.
But Mick Parry and Shane Harman's 6-1 final set win proved decisive, clinching Hamlyn Park the win by four games.
Joe Horvat's ongoing battle with Ari Levinson across three sets, with different doubles partners, was a highlight of the day.
Their three rubbers featured two tiebreaks and one 7-5, finishing 2-1 in Levinson's favour, despite his team losing overall, and with Horvat hobbling off the court.
In other Section 1 tennis, Ocean Grove stunned home side Barwon Heads with a massive 6-0 win, to move from fourth to second on the ladder.
Ocean Grove had a dream start with Jarrod Proctor and Sam Hines taking the first set 6-0, and Sean Williamson and Sean Cronwright winning 6-2 in the second.
They did not look back, allowing Barwon Heads just nine games for the day and dropping them back from third to fifth.
Surfcoast (seventh) hosted Geelong East Uniting (sixth) and started well with Andrew Erwin and Dale Antonyson taking the first set 7-5.
But Uniting stormed back to win the next five, with Ryan Lange and Sean Olsen winning their three sets.
The 5-1 win moves Uniting to fourth on the ladder.