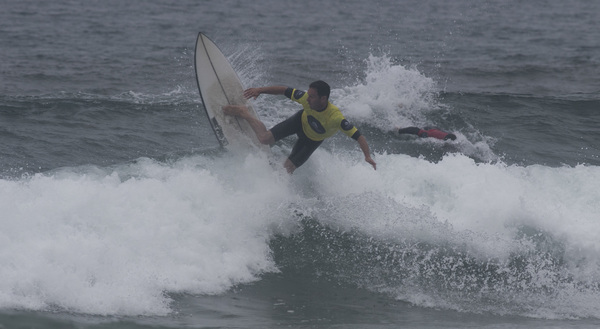 Several Surf Coast locals including former world number two Bradley Gerlach have surfed to victory in the Victorian Masters Titles at Jan Juc Beach.
Torquay's Johnny Hawken smashed through some big sections on his backhand to score 7 and 6.9 and win the over 35 division on Sunday.
"It was testing conditions out there today, but I've surfed Juc in these similar conditions a lot during the last month which definitely helped me," the new masters entrant said.
"I'm stoked to be able to be heading to the Australian Masters Title up north, and I'm really looking forward to going away for it."Coming in second was Callan Cross who threw a great air reverse into the onshore afternoon winds to win Wave of the Day.
Gerlach was a class above in the over 50s posting an excellent 9-point ride on his way to victory.
The US expat stylishly carved his way through the Jan Juc line-up at ease, seeming to hit the rhythm that made him a powerhouse on the world tour back in the late '80s and '90s.
"I haven't been surfing much lately due to injury so it was great to get some water time and surf some heats today," Gerlach said.
"I entered a lot of divisions today, it was really cool to just be in the water again and competing at this level.
"Competing is such a fun thing to do and I am loving life down here in Torquay."
In the over 40s Jan Juc's Marcus Huppatz reigned supreme in the afternoon conditions, ripping apart some left-handers to get the win over fierce competition.
Marcus Lens was too good for his counterparts in the over 45s, getting a strong score of 7.13 on his best wave leaving Gerlach trailing behind.
Surfcoast resident Rowan Sapwell continued his form from a strong semi-final into the over 55s final, where he was too good for his competitors.
Sapwell and local surfing legend Greg Brown traded blows throughout the final.
But Sapwell got the nod with his 13.50 total out of a possible 20, over Brown's 13.
The Single Fin division was a much awaited final with all surfers getting opportunities to showcase their best retro surfing. Getting the win was Huppatz with Gerlach taking second.
For a full list of results visit surfingvic.com.