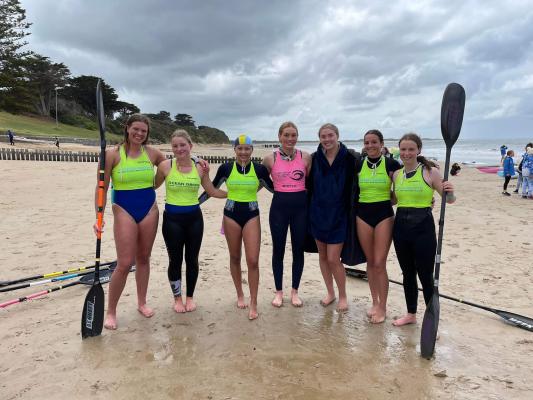 Ash Bolt
Lifesaving sports are officially back for the summer, with Life Saving Victoria (LSV) athletes hitting the sand and the surf last weekend to compete in beach, board and ski and surf boat disciplines for the first time since COVID-19 paused play.
On Saturday, over 200 athletes hit Cosy Corner on the Surf Coast for the 2021 endurance championships, which saw athletes contest long-course board, ski, swimming and running events.
Geelong region surf lifesaving clubs showed their strength in the competition, with five local clubs placing in the top seven at the event.
Ocean Grove was easily the strongest on the day, placing first with 274 points, ahead of Mentone in second with 109 points and Torquay in third with 107.
Lorne, Anglesea and Jan Juc finished fifth, sixth and seventh respectively.
Torquay's Sophie Thomas had a strong day, taking out the open women's two kilometre swim and four kilometre board race, as well as placing second in the 10km ski race.
Ocean Grove's Iestyn Knapp was also a standout, claiming wins in the under-19 men's two kilometre swim, four kilometre board and four kilometre run races.
It was the Victorian Surf Rowers League competitors' time to shine on Sunday, when the sport returned to the surf at Lorne Surf Life Saving Club in its first outing for the season.
It was an all-local affair in the women's A final, as Anglesea Lightning took the win ahead of Lorne Lions and Lorne Edge, while on the men's side, Lorne took second in the A final and Anglesea Pirates third.
LSV aquatic sport manager Simon Butterly said it was great to athletes back competing after a long winter break.
"It was fantastic to see athletes from the under-12 division all the way up to masters at our endurance championships, as LSV is working to actively promote aquatic sports as a great form of active training across all demographics," he said.
"LSV's aquatic sport athletes are patrolling members at our 57 lifesaving clubs, so our carnivals are valuable opportunities for them to practice their skills in the conditions they are likely to face on patrol.
"Sport is also an important part of our lifesavers' connection to their communities, which are always there to support them in their training and competition activities.
"We are proud of our athletes for their resilience to continue actively training wherever possible throughout this period and for staying engaged with aquatic sports.
"With a fully vaccinated workforce and volunteer force for those aged 16-plus, I look forward to safely hosting our aquatic sports carnivals for the summer season, after a successful opening weekend."