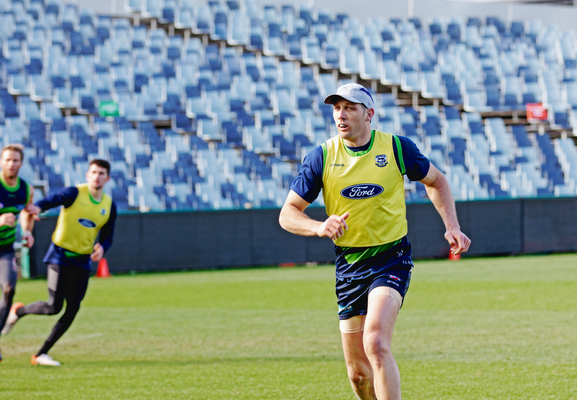 By Natalee Kerr
Milestones for a "much-loved" duo have been the focus this week as Geelong Cats look to put a "poor" post-bye record behind them, according to coach Chris Scott.
Star Cats Harry Taylor and Cameron Guthrie will play their 250th and 150th games respectively against Port Adelaide in Adelaide tomorrow night.
"If we needed an extra motivation to play well, we want to do it for those guys," Scott said.
"That should be enough to get us up and about."
Scott said the "whole" industry admires the way Taylor has approached his role and career.
"I don't think I've met more of a professional player," he said.
"Looking over the vision of his last 249 games, he's played on some greats and rarely had his colours lowered.
"There are so many parts of the way Harry goes about his craft that we'd like to be passed down to our younger players."
Scott also mentioned his unique link with Guthrie, with the midfielder's milestone reflecting a "similar path" to his own.
The pair joined the club at the same time in 2010 and Scott's first game in charge was Guthire's debut appearance.
"I think he's the only player that came in that year that is still on the list," Scott said.
"He's been a great supporter of our footy club and his teammates love playing with him.
"He's the definition of a team-first player. He doesn't desire any more accolades for himself than he gets."
The Cats return from their mid-season break with an 11-1 record as they look to break their post-bye hoodoo, having lost the game after the bye for the last seven years.
But Scott questioned the relevance of past history to the current group.
"I did bring it up post-game (after playing Richmond) and a third of the room had no idea what I was talking about," he said.
"It kind of speaks to the fact that we have some new people in the team and it's a new year and it just feels different to us."
Scott added he was "confident" with the group's preparation during the bye.
"It has given us the opportunity to work on a few things, and given a few individuals a bit of a chance to recover from some niggling injuries," he said.
"We're very impressed with the way the boys came back and trained."
The ladder-leaders have won 14 of the past 15 encounters against the ninth-placed Power, but Scott said the Cats would not be taking Port Adelaide lightly.
"Their best is good, the numbers reflect that," he said.
"When they use the ball the way we think they would like, it's pretty hard to stop."