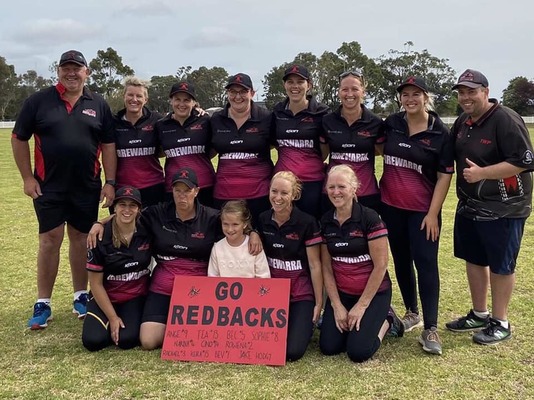 LOCAL CRICKET Jim Timberlake
Geelong Cricket Club was unable to take to the field against Monash last Saturday, following heavy downpours in the lead-up to the game.
The match will now revert to a one-day fixture tomorrow during which the Cats must put it all together if they are to keep their slim finals hopes alive.
With two rounds to go in the Geelong Cricket Association season, division one side Grovedale faces a must-win clash with ladder-leader North Geelong.
The Tigers managed to get six vital points last week, when they smashed Murgheboluc in the first innings, but fell short in their quest for outright second innings points.
They would have been disappointed to learn that the East Belmont and South Barwon game did not proceed due to a waterlogged ground at Winter Reserve. Had that game gone ahead, the loser would have slipped to fifth spot, below Grovedale on the ladder.
Grovedale now needs to regroup quickly and prepare for the Magpies with a must-win attitude. East Belmont plays bottom-placed St Josephs, while South Barwon plays Bell Post Hill in a game it should win.
Still, there is no easy games, so don't be surprised if there is an upset or two to throw a cat amongst the pigeons.
Selections: St Josephs v EAST BELMONT, MURGHEBOLUC v Leopold, SOUTH BARWON v Bell Post Hill, Newtown & Chilwell v LARA, NORTH GEELONG v Grovedale.
Division two continues to intrigue, with seven of the eight clubs still able to make the finals.
St Peters is probably the least likely of those, as its percentage is far inferior to the sides above. But if it can cause a boilover and defeat second-placed Marshall this game, it could potentially thrash Manifold Heights in the final game and sneak in.
Highton has also managed to keep its head above water, finding itself in fifth spot after beating Bell Park last week in a huge upset.
It plays fourth-placed Modewarre this game, meaning the stakes could not be higher for either side.
And in a scenario no one would have predicted at the start of the season, Geelong City takes on Bell Park in a game it must win to ensure it moves through to the post season. Bell Park will be desperate to bounce back, meaning the Sharks will have no choice but to bring their A game.
Selections: MARSHALL v St Peters, Manifold Heights v TORQUAY, BELL PARK v Geelong City, MODEWARRE v Highton.
Division three remains enthralling, with what must surely be the tightest season ever continuing to build towards an amazing climax.
While the top three appear set, there are six sides who all still have legitimate hopes of snagging the final spot in the top four.
Guild Saints holds that spot, so their motivation to take on Alexander Thomson this round should be high.
Selections: ALEXANDER THOMSON v Guild Saints, Waurn Ponds Deakin v CORIO, ST ALBANS BREAKWATER v Bannockburn, Lethbridge v THOMSON, Newcomb & District v GEELONG WEST.
And in the Barwon Women's Cricket Competition, Irrewarra took out the inaugural premiership in sensational fashion, beating Ocean Grove in a hard-fought final.
Ocean Grove batted first and posted 6-89 from its 20 overs, but Irrewarra held its nerve to pass the total with just three balls to spare.
The competition has been hailed a huge success by clubs and participants.