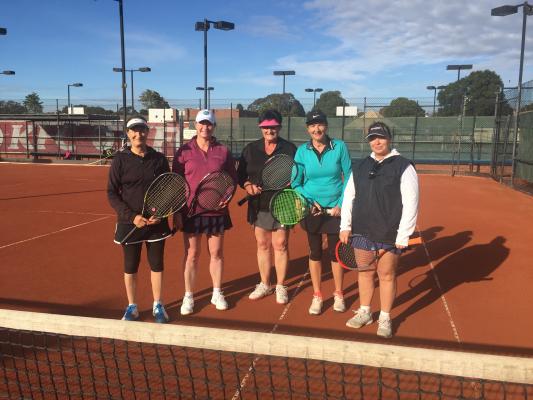 LOCAL TENNIS Donna Schoenmaekers
COVID-19 lockdowns have again disrupted tennis across Geelong but the midweek ladies managed to complete their first round last Tuesday before the suspension of play.
In the top division, reigning Section 2 premiers Point Lonsdale rose to the occasion after their promotion to Section 1, defeating Ocean Grove 4-2.
Point Lonsdale dominated early taking the first four sets.
Ocean Grove improved the score line taking the final two dead rubbers, but too late to change the match result.
Reigning Section 1 premier Geelong Lawn Green had a tough match with Moriac mounting a thrilling comeback to snatch a tie.
Green was 3-1 going into the final two sets, but Moriac came home hard taking the last two 6-3, 6-0 to force the tie.
Section 2 provided a touch up for last season's Section 3 grand finalists, after both went up a division.
Reigning Section 3 premier Drysdale had a close loss to Geelong Lawn White, finishing three-sets-all, but going down by two games.
Section 3 runner-up Highton had an even tougher introduction to Section 2 against Winchelsea, going down 0-6.
COVID-19 restrictions in June robbed Winchelsea of the opportunity to play for a grand final berth.
But last season's semi-finalists showed they would again be force to be reckoned with this season with their thrashing of Highton.
In Section 3, Anglesea, demoted from Section 2, snuck over the line against newly-promoted Section 4 reigning premier Barwon Heads White.
Anglesea started well taking the first two sets, but White took the next two, with the former holding a five-game lead.
The final two sets were split, but Anglesea held onto its lead in games.
In another tight match Surfcoast Bellbrae faced Highton.
The teams finished three-all on sets, but Highton's Sarah Hall took two of her sets 6-0, helping Highton to a seven-game win.
Highton's Section 4 compatriots were not so successful, losing to an incredible comeback by Aireys Inlet.
Highton powered ahead taking the first three sets, but the Aireys Inlet women composed themselves, winning the final three and finishing two games ahead.
Intraclub rivals Surfcoast Jan Juc and Surfcoast Torquay Black also had a close encounter.
The topsy-turvy match saw Jan Juc take the first two sets and Torquay take the next two, giving them a three-game lead going into the final two.
Bronwyn O'Sullivan and Vicki Rossiter gave Jan Juc a chance to win, taking the fifth 6-1 to pull ahead by a set and two games.
But Melissa Cousell and Debbie Skinner proved too good, taking the final 6-2 to draw level on sets and put Torquay back in front by two games for the win.