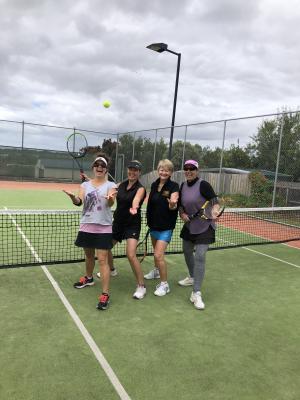 Donna Schoenmaekers
Tennis is now back into full swing with triples, Saturday juniors and seniors, and Tuesday midweek all on court this week, with a feeling of life getting closer to normal.
Tuesday's midweek ladies were keen to get some match practice after a rollercoaster-like season.
COVID has not been kind to the Tuesday midweek ladies competition with three of the last four seasons not coming to a suitable conclusion, including the current winter season where grand finals were originally scheduled to be played next week.
The season started as planned but after the first week, play stalled for two weeks due to lockdowns.
Rounds five and six were played after much uncertainty, but play was again put on hold when the state plunged back into lockdown.
Eventually the season was cancelled, but the ladies, in true midweek fashion, were keen to make the most of the weeks they had available.
The committee worked a three week draw for the teams that were interested in getting some practice and well needed social interaction.
Of the original 63 teams, 42 are enjoying the hit out across seven sections.
In some instances, teams have only been able to field three players instead of the usual four, but as the rounds are being treated as practice matches, they are being played nonetheless and in good spirits.
The weather has not been particularly kind to the players for the first two rounds, with windy conditions in round one and with rain causing a delayed start for some matches this week, but the forecast for next week looks a little better, so the ladies will be glad for some sunshine.
Next week will be the final week before the Christmas break with the new summer season scheduled to begin February 1, where hopefully the season can proceed uninterrupted.