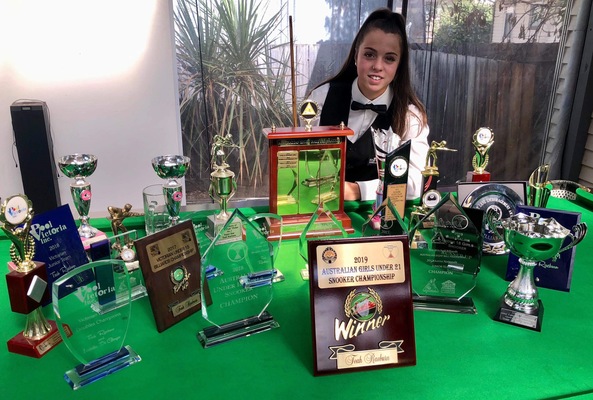 By Natalee Kerr
Despite playing snooker just twice this year, Geelong's Teah Raeburn will represent Australia at the World Championships in China this July.
The 18-year-old won the 2019 Australian Women's Under-21 Snooker Championship in Sydney last weekend to progress to the overseas tournament.
"I was kind of in disbelief when I won, it was such a cool feeling," she said.
"In the back of my mind I was thinking about potentially going to China, so that definitely drove me to win."
The Bell Post Hill teen has played eight-ball since she was 15-years-old and picked up snooker a year later.
Teah said she practices eight-ball "about four times a week" but plays snooker far less.
"I don't really practice snooker, the only times I've played snooker this year has been at tournaments, both of which I've won," she said.
While Teah said "she loves the game" her favourite part of the sport is the people involved.
"I've met hundreds and hundreds of people, everyone is really close friends and I've received really great support from people in Geelong."
Teah said she is "really excited" to attend her first ever overseas snooker tournament.
"I can't wait to go to a country I've never been to before and meet new people from all over the world."
"I know it's going to be tough competition, I'm not expecting to win but I'm just excited to learn from the experience."
Teah has made five Victorian state teams; she's competed around the country in seven National Championships and holds four Australian titles.
Teah's mum Vicki said her daughter has been labelled a "freak" with her "natural ability" for the game.
"The other kids she plays with all started when they were about five-years-old, but Teah has only been playing eight-ball for just over three years," Vicki said.
Vicki who is also a regular eight-ball player, said her daughters interest for the game stemmed from her.
"I originally taught her for a bit, before she got a coach once we realised she was pretty good," she said.
Vicki said the trip to China provides a "massive opportunity" for her daughter.
"It's all a bit of a surprise, everything has happened so quickly," she said.
"She got through some pretty hard games on the weekend so it's a great reward."