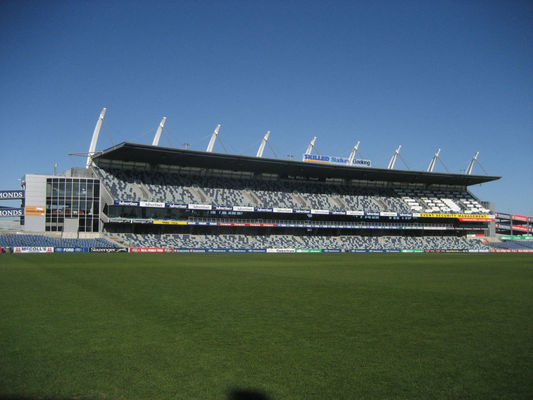 Ash Bolt
Geelong has been locked in as one of seven host cities for next year's ICC T20 World Cup.
GMHBA Stadium was picked as one of seven stadiums to host games during the international tournament in October and November next year.
It has not been confirmed how many games Geelong will host, but it will host group stage games in the 16-team tournament.
The tournament will feature 45 games, with Adelaide, Brisbane, Hobart, Melbourne, Perth and Sydney also picked as host venues.
Semi-finals will be played at the SCG and Adelaide on November 9 and 10, before the final is played under lights at the MCG on November 13.
Australia will go into the tournament as defending champion after beating New Zealand in the 2021 T20 World Cup final on Monday morning.
ICC Men's T20 World Cup local organising committee chief executive Michelle Enright said it was an "amazing platform" to see the Australian team "try to defend their title in front of Aussie fans in 2022".
"In exactly eleven months … Australia will host the next edition of the ICC Men's T20 World Cup, bringing the world's best and most dynamic players to our shores for an unmissable event in October and November next year.
"With the unprecedented disruptions over the past two years, bringing the ICC Men's T20 World Cup to Australia for the first time offers a perfect opportunity for fans across the whole country to experience the joy of a live global sporting event again.
"World Cups unite people with the common thread of a love for cricket. We can't wait to welcome fans of all ages and backgrounds to the world class venues across the seven Australian host cities to support their teams.
"The ICC Women's T20 World Cup in 2020 produced some incredible moments and created memories that will live with Australian cricket fans forever. Now it's time for the men's event to take centre stage and claim its own place in history."
The world cup was supposed to be held last year, with Geelong also due to host matches, but was delayed due to the COVID pandemic.
Full fixtures for the tournament will be released in January, with tickets going on sale from January 31.