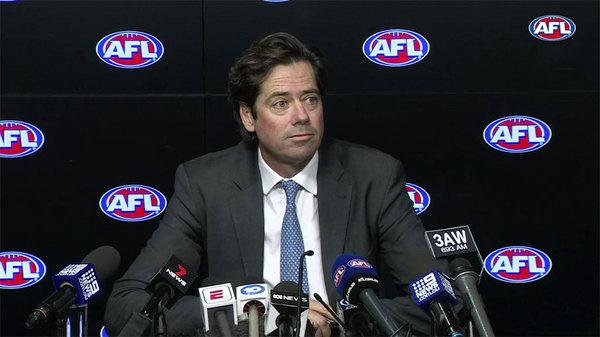 By Luke Voogt
The Cats' hopes of hosting a final in Geelong have taken a hit after AFL boss Gillon McLachlan stated his support for an MCG qualifier.
SEN radio host Gerard Whateley questioned McLachlan on Tuesday about whether Geelong should host the qualifying final at Kardinia Park if it made the top two.
"As a matter of fairness, if Geelong finished top of the ladder should they host a qualifying final at Kardinia Park?" Whateley asked.
"I think they play home games at the MCG," the AFL chief executive officer responded.
"And I don't think, per se, that's an integrity or a fairness issue. It's what we've always had as a best-fit policy."
With Geelong two games clear on top of the ladder the club is tracking towards a top-two finish, which would secure it a home qualifying final.
Geelong Cats currently have 65,074 members while Kardinia Park Stadium holds only 36,000 spectators.
McLachlan suggested the MCG with its roughly 100,000 seats was better-equipped to host a qualifying final.
"We want to maximise the ability for their members and others to get to the games," he said.
Aside from one exception in 2013, Geelong has played its home finals at the MCG or Marvel Stadium in the modern era.
But the club has argued hosting a game against at Kardinia Park against an interstate team would make sense.
With Brisbane, West Coast, Greater Western Sydney and Adelaide all vying for a spot in the top four, this could become a reality.
While Geelong Football Club lobbies behind the scenes for a home final, Cats coach Chris Scott has distanced himself from the issue.
While he has previously hinted at his preference for a Kardinia Park final, he told a media conference after round 8 that "those conversations need to be had by the relevant people".
"It's a really interesting, relevant debate for the wider football public but it bares no relevance to our football department at the moment," he said at the time.
"It's much, much too early for us to be thinking about it but in my view round 23 is much too early for the coach to be thinking about it."