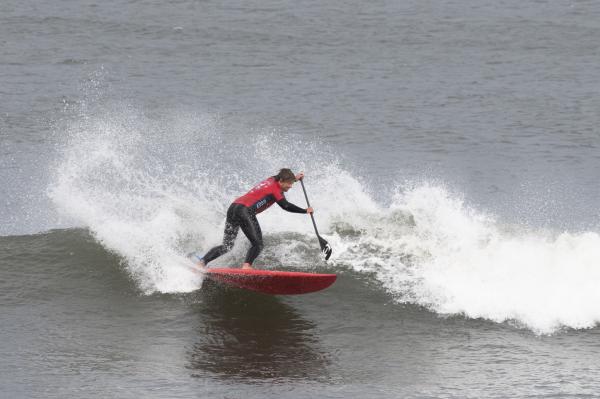 By Luke Voogt
Jan Juc stand up paddle (SUP) surfers starred in both the open men's and women's divisions in the shortened Victorian titles on Sunday.
Matt Takle won the top men's division at Point Impossible on Sunday, after miserable weather on Saturday caused organisers to shorten the Victorian SUP Surfing Titles to one day.
But two-foot waves and a stiff offshore breeze at 'Possos' on Sunday gave competitors plenty of opportunities throughout the day.
Takle made the most of the small swell, finishing with a combined heat total of 13.67 including an eight-point ride, one of the highest wave scores of the day.
"The conditions out there definitely became tricky as the day progressed," the Jan Juc paddle surfer said.
"It was pretty consistent with the lower tide in the morning, but once that tide filled in it became quite slow and hard to surf."
Not far behind Takle was Torquay's Rick Pettifer, who posted a combined heat total of 11.97.
Pettifer managed to snag a couple nice waves but was left chasing a 7.18 to improve on his position.
Takle also took out the 10ft longboard trophy, with Surf Coast competitors winning six of nine divisions.
Fellow Jan Juc surfer and former champion Emma Webb again won the women's top title despite a close call with the rocks in the final heat.
Webb posted a heat total of 13.34 in the final on Sunday afternoon, showing full commitment surfing the waves before becoming dry-docked on the rocks.
"It was fun out there," she said.
Webb continued her impressive form throughout the afternoon to claim the over 40 women and open women longboard SUP divisions too.
Results
Open men
1st Matt Takle (Jan Juc) 13.67
2nd Rick Pettifer (Torquay) 11.97
3rd Chris Clarke (Point Leo) 9.10
Open women
1st Emma Webb (Jan Juc) 13.34
2nd Xanthe Rivett (Rosebud) 8.13
3rd Leanne Jack (Mornington) 7.90
4th Vanessa Mollard (Brunswick) 7.23
Over 40 men
1st Rick Pettifer (Torquay) 13.84
2nd Brad Kerr (Airys Inlet) 12.00
3rd Ty Cunningham (Mccrae) 10.17
4th Sam Hodder (Romana) 7.84
Over 40 women
1st Emma Webb (Jan Juc) 10.93
2nd Meleah Zanos (Ocean Grove) 7.20
3rd Xanthe Rivett (Rosebud) 6.73
4th Vanessa Mollard (Brunswick) 6.20
5th Lucy Bell (Sandringham) 6.16
Over 50 men
1st Brendan Ryan (Port Campbell) 9.56
2nd John Takle (Jan Juc) 8.67
3rd Damien Quinlan (Highett) 7.53
4th Warwick Lee (Cheltenham) 7.50
Over 60 men
1st John Lane (Torquay) 13.43
2nd Michael Jenkins (Black Rock) 8.13
3rd Anthony Rolph (Lalor) 5.34
4th John Takle (Jan Juc) 3.50
Over 60 women
1st Helen Snibson 9.33
2nd Anne-Marie Burgoine (Cape Bridgewater) 7.34
Open women 10ft longboard
1st Emma Webb (Jan Juc) 13.90
2nd Lucy Bell (Sandringham) 8.17
3rd Vanessa Mollard (Brunswick) 5.17
4th Meleah Zanos (Ocean Grove) 4.80
Open men 10ft longboard
1st Matt Takle (Jan Juc) 11.27
2nd Chris Clarke (Point Leo) 10.33
3rd Liam Mccafferty (Mccrea) 9.50
4th Sam Hodder (Dromana) 6.73
Over 50 10ft longboard
1st Michael Jenkins (Black Rock) 8.63
2nd Damien Quinlan (Highett) 7.40
3rd Anothony Rolph (Lalor) 6.83
4th Warwick Lee (Cheltenham) 4.71